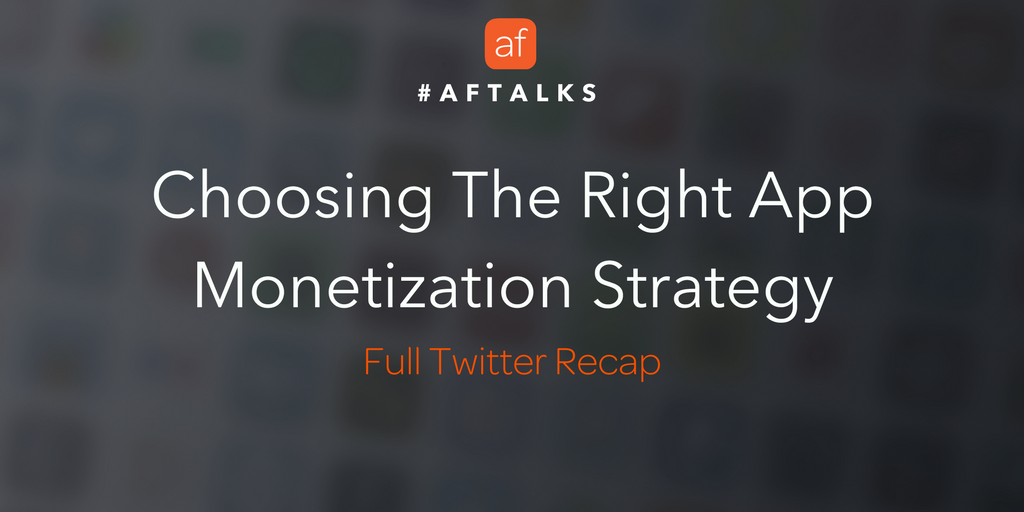 AFtalks is a series of chats conducted on Twitter where we discuss building and selling apps. We've got a different topic/expert every week, and everyone is welcome to join the conversation.
Welcome to our #AFtalks recap!
This week we talked app monetization with Curtis Herbert. From the differences between monetization models to how some models affect the app's. When it comes to monetization, one size doesn't fit all.
Curtis is the creator of Slopes for iOS, and an avid Apple enthusiast. We asked him to share his insights on this topic with the questions below. Included are his answers, as well as some of our favorite insights from the community: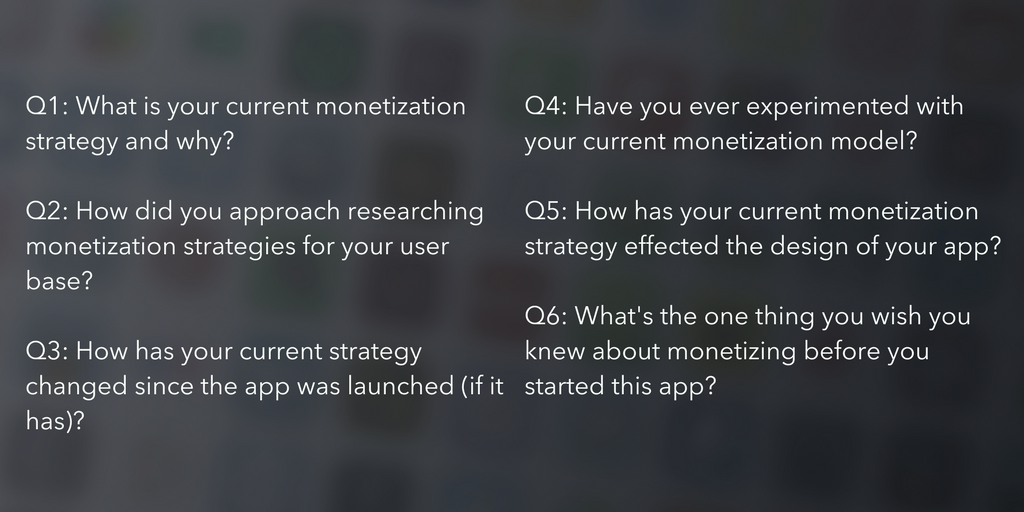 Q1: What is your current monetization strategy and why?
A: Monetization has been something I've had to experiment a lot with over the course of shipping Slopes and I think I'm finally happy with the current strategy. I'm on my third iteration, since shipping my 1.0 in Sept 2013, of how I charge for Slopes at this point. My current approach looks like this: Slopes is a free download and you get access to high-level data about your day skiing or snowboarding for free. Things like your top speed, distance, time spent on lifts vs in the lodge vs going downhill, etc. All the sweet stuff, like great-looking maps and detailed stats + a 3D replay for each run you took, require some form of Slopes Pass. These passes are sold as either a yearly subscription (think a season pass at a resort), or a consumable unlock for one-day or one-week (akin to the day-passes you buy when going to a resort).
Follow-up: At what stage of the development did you start thinking about monetization?
To be honest I didn't really start thinking hard about monetization until my big 2.0 in winter of 2015. But with that 2.0, monetization was my main focus. I rebuilt so much of Slopes around my new strategy.
A1: Free with in-app purchases. We want everyone to be able to download and play, because it's a brand new unique puzzle game. #AFtalks

— Break Four (@BreakFourGame) June 20, 2017
A1: Free, donations possible. I want everyone to be able to enjoy the app. No aspirations of profit. Donations help cover dev fees. #AFtalks

— Frame Data V (@FrameDataV) June 20, 2017
Paid and freemium, most of the money comes from paid upfront. 70/30

— Evgeny Cherpak (@iOSRemote) June 20, 2017
Q2: How did you approach researching monetization strategies for your user base?
A: Since Slopes is a companion to an existing hobby, skiing and snowboarding, most of my research centered around how people were already spending money in the niche. My first iteration, being a paid up front app, was very akin to how people pay for gear. But unfortunately people in general don't like the paid upgrade model, so convincing them to pay for a 2.0 or 3.0 isn't as easy as tempting them on some awesome new snowboard.
When I was planning my 2.0, I realized season passes at resorts are basically subscriptions, and that got me to start down the path I'm on today. My focus was to find ways for recurring revenue, and the Slopes Pass model started to make sense to me. You pay for access at a resort, based on how much you go, so why not approach the app like that? You aren't buying the app, you're buying access to the services it provides.
Trial and error, tired first freemium, wasn't converting too many users, too many customer support cases, so decided to try paid

— Evgeny Cherpak (@iOSRemote) June 20, 2017
Q2: definitely trial and error over here too. Started with a subscription model and now we are free. #AFtalks

— Pink Lung (@pink_lung) June 20, 2017
Q3: How has your current strategy changed since the app was launched (if it has)?
A: Before that big 2.0 re-work, I just charged up front for Slopes — I didn't give monetization much thought at the time as I was so focused on building the features I wanted to see. In some ways being paid up front helped because it kept Slopes's audience small as I built up a really compelling set of features. I honestly don't think I could have launched with an IAP in my original 1.0.
But even my 2.0 wasn't quite right, I hadn't envisioned the one-day and one-week passes at the time. I was just focused on subscriptions with 2.0. But pretty quickly I realized I was missing out on a whole class of my niche: those that can only go on one big ski trip a year. There was no way they'd pay $20/yr for Slopes. So in 2.3 I added one day and one week consumables, to live along side my yearly subscription.
I'm really glad I took the time to re-think things that third time because those consumable passes now account for 50% of my revenue.
A3: We started out as a subscription service but moved to a free version to build users…ultimately we just want to help people quit!

— Pink Lung (@pink_lung) June 20, 2017
Q4: Have you ever experimented with your current monetization model?
A: Since arriving on the consumable/subscription hybrid in 2016 I haven't tweaked the formula much. Instead what I have been experimenting on (although not as much as I'd like) is pricing in different regions. Turns out the cost of skiing in America is a lot higher than in other parts of the world, so when I moved from a paid up front app to my more expensive subscription option I lost paying users in countries located in Europe and other regions. Fortunately Apple has made this easy to play with, at least with subscriptions (not consumable IAPs), so I started playing with that a little this last winter. I think I need to do a lot more to find the prices that work for Slopes in other parts of the world.
Follow-up: Has that caused any issues with users?
So far none have complained when I experiment! And the bigger move from paid up front to IAP was pretty painless, too, but I attribute that to the fact I grandfathered 1.0 users a lot of stuff to make sure I take care of them. They were my early customers and I felt it was only right to make sure the app they paid up front for kept working as expected, even if some of the features they enjoyed now cost more money for new users. I used to be super paranoid about playing with my pricing (I dreaded the day when as a paid up front app I went from $3.99 -> $7.99. Spoilers: no one noticed, and revenue went up) but now I've learned as long as you aren't doing things to break the trust of users, they largely don't notice.
Right now trying to convert one of my apps from consumable to subscription

— Evgeny Cherpak (@iOSRemote) June 20, 2017
Q5: How has your current monetization strategy effected the design of your app?
A: Where I used to focus so much on the design of features (I still do), I find myself spending almost as much time focusing on things like finding the right opportunities to educate and up-sell users the premium Slopes Pass features. I spend a lot more time thinking through what the context of the user likely is on any given screen and look for the right opportunities to prove the value Slopes can provide them. I also spend a lot of time trying to balance what I give away for free, and what I charge for. That's the downside to being a freemium app: that formula is tough. I need to make sales, but I also need to make sure my free mode has enough to keep people around (and try to convert them in the future).
Q6: What's the one thing you wish you knew about monetizing before you started this app?
A: I wish I knew how much experimentation it would take to find what worked best for my business, so I could have started much earlier! I wasted two years as a paid up front app, afraid to mess with the model, and that really held me back in many ways.
A6: The most important thing we've learned is that apps don't sell themselves. Marketing is a huge factor in your success. #AFtalks

— Break Four (@BreakFourGame) June 20, 2017
---
Check out the rest of the insights we heard today on the #AFtalks hashtag
A huge thanks to Curtis and to all those that were part of today's discussion! Join us for our weekly Twitter chat every Tuesday at 1pm ET (and bring your friends!). See you all next week where #AFtalks about the business side of apps.
Resources: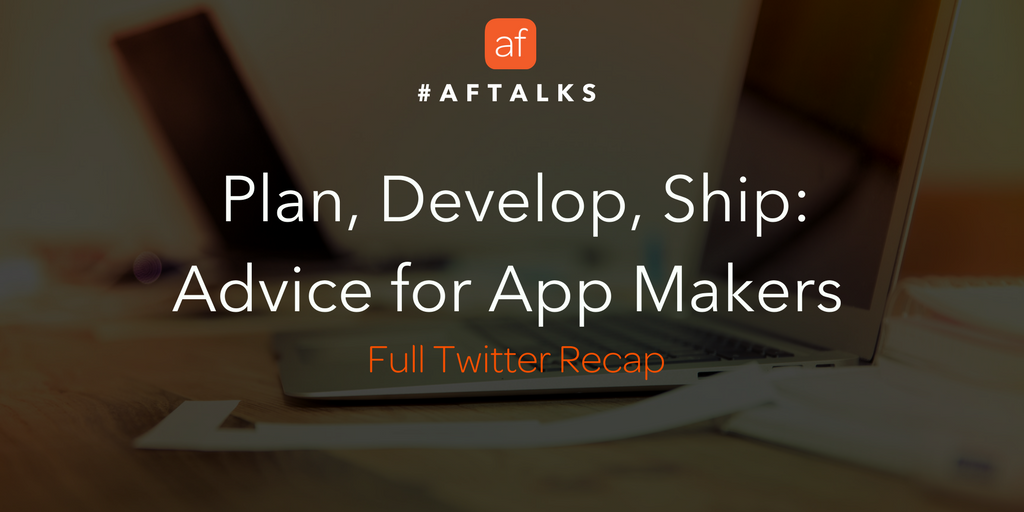 AFtalks is a new series of chats conducted on Twitter where we discuss the business side of building and selling apps. We've got a different topic/expert every week, and everyone is welcome to join the conversation.
Welcome to our #AFtalks recap!
This week's discussion revolved around the process of making an app–from planning an app to the actual development stage, to launching and keeping it successful. We hope that first-time developers get useful insight as they take on their new projects, and that seasoned developers can share their experiences and maybe even learn new tricks on how to improve their process.
To kick off our very first twitter chat, we invited our CEO + Co-Founder, Ariel Michaeli, to share his insights on this topic with the questions below. Included are his answers, as well as some of our favorite insights from the community: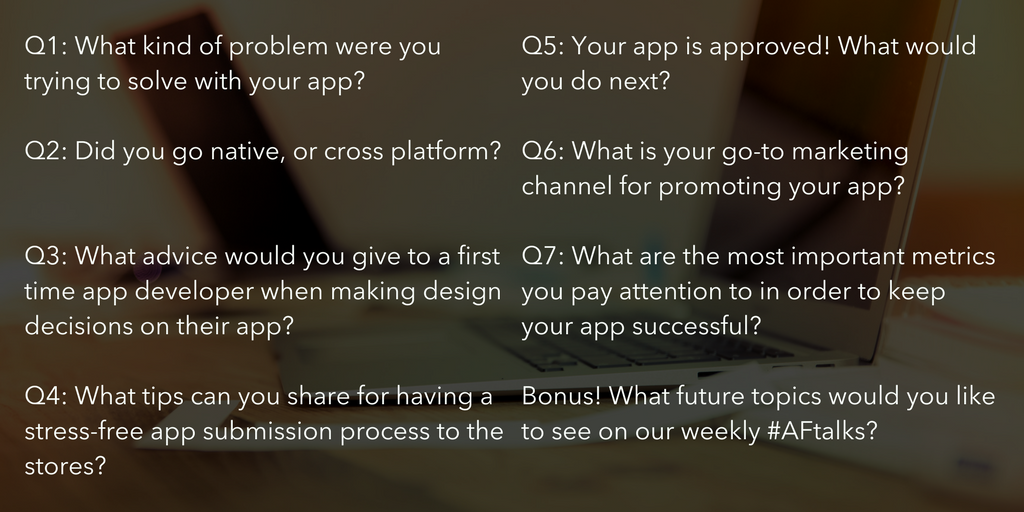 Q1: What kind of problem were you trying to solve with your app?
A: We wanted our app to simplify analytics so that our users can get a high level overview quickly but also dig in deeper. Once we started designing we realized this is much harder to accomplish if we just "port" the way the site works.
Here's an example of thinking outside-the-box to solve a problem with an app:
A1 We wanted to help people quit smoking through a novel, research-based method – creating financial challenges with their friends. #AFtalks

— Pink Lung (@pink_lung) June 13, 2017
Q2: Did you go native, or cross platform?
A: Native all the way! If you've seen/used the app you know it's very interactive and full of animations. All of that required native code, and a few components built from scratch (like charts). However… that was two years ago, and for a very specific reason. Non-native is much more popular today. One good example of this is Unity, which is now being used to build 45% Android games.
45% of free games on #GooglePlay were built with @Unity3d 🔌 🎮

— Appfigures (@appfigures) June 1, 2017
Q3: What advice would you give to a first time app developer when making design decisions on their app?
A: Don't be afraid to throw out your entire design, even if you invested a lot of time into it. Little known fact, we designed and built a whole app, then didn't like it and threw it away before shipping. It cost us quite a while, but ultimately resulted in an app that's much easier to use.
Listen to users and find their needs. Create and test solutions. Choose one. Keep it simple.

— Kalle Paulsson (@kallepa) June 13, 2017
Don't stray far from Apple & Google.

This includes: font sizes, colors, line thickness & icons.

Polish transitions and copy.

Start small.

— Brad Ellis (@BradEllis) June 13, 2017
The problem is never the people it's the design. When someone uses a product "incorrectly" it's the product that is designed "incorrectly".

— Ryan McLeod (@warpling) June 13, 2017
Q4: What tips can you share for having a stress-free app submission process to the stores?
A: Read and follow the guidelines! When we first submitted the app we got a metadata rejection immediately for having a link somewhere we shouldn't. A silly reason for a launch delay. Also, plan extra time to go through review, so there won't be a rush to launch on time.
Q5: Your app is approved! What would you do next?
A: We celebrated for a bit, then turned over to marketing and promotion. We got a good amount of traction early on from journalists, ProductHunt and from our member mailing list, and it was important to concentrate all at once. Then it was all about the numbers. We focused on downloads, active users, session length, and how they all work together.
Q6: What is your go-to marketing channel for promoting your app?
A:We've had a lot of success with our mailing list and Twitter ads. I've heard very different answers though from others. IMO the key is to map out all the channels you can use and pick the ones where the audience is most receptive. For example, a post in the right sub reddit might have a higher return than a paid Facebook ad.
Q7: What are the most important metrics you pay attention to in order to keep your app successful?
A: We look at a combination of things, starting with downloads and usage, and compare them to internal metrics like first-time logins, and how users engage with the app. Our latest update added real-time notifications, so tracking active users has been our focus. Recently 7-day retention is another important metric for developers, but depends a lot on your app. We spend a lot of time looking at the relationship between metrics and conversion rates over time.
---
Check out the rest of the insights we heard today on the #AFtalks hashtag
A huge thanks to our guest and to all those that were part of today's discussion! Join us for our weekly Twitter chat every Tuesday at 1pm ET (and bring your friends!). See you all next week where #AFtalks about Monetization Strategies.
Resources:
Image sources: Canva
2016 has been a busy year both in and out of app stores — new devices, improvements to the buying experience, support for the subscriptions model, and a new App Store for iMessage apps kept developers busy. In fact, app developers have shipped the most new apps in a single year so far, including two of the biggest releases: Pokémon Go and Super Mario Run.
To recap the year by numbers, we've analyzed over 5 million apps and will be focusing on two general topics:
App and developer growth trends
The technologies (SDKs) apps are using
Keep reading to find out which categories grew the most, how most games monetize, and more.
App Growth: Steady Does It
Total Number of Active Apps
As of December 2016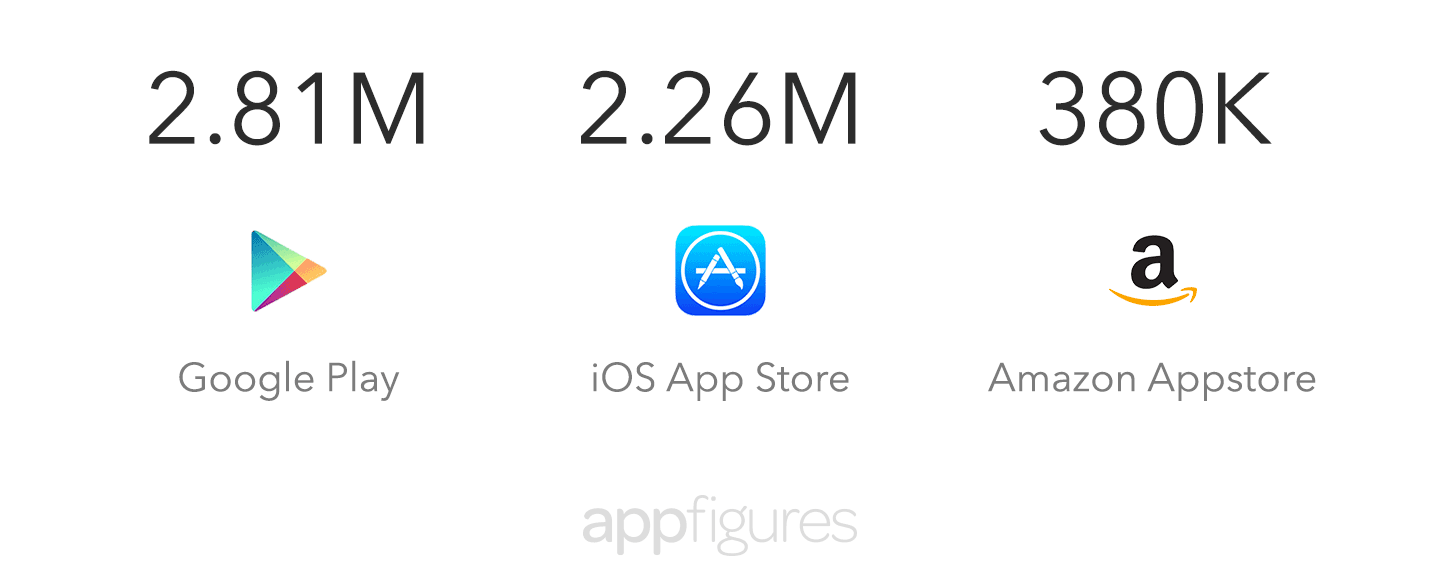 Over the years, we've seen the number of app releases grow substantially year-over-year as smart phones became standard across the world. In 2016, new and existing developers published a total of 1.1 million new iOS and 1.3 million new Android apps. 2.4 million apps in total isn't only an incredible number of apps, but also the most apps ever added in a single year.
However, as incredible as this total is, it's only marginally higher than 2015. Comparing year-over-year growth, it's obvious things are starting to slow down.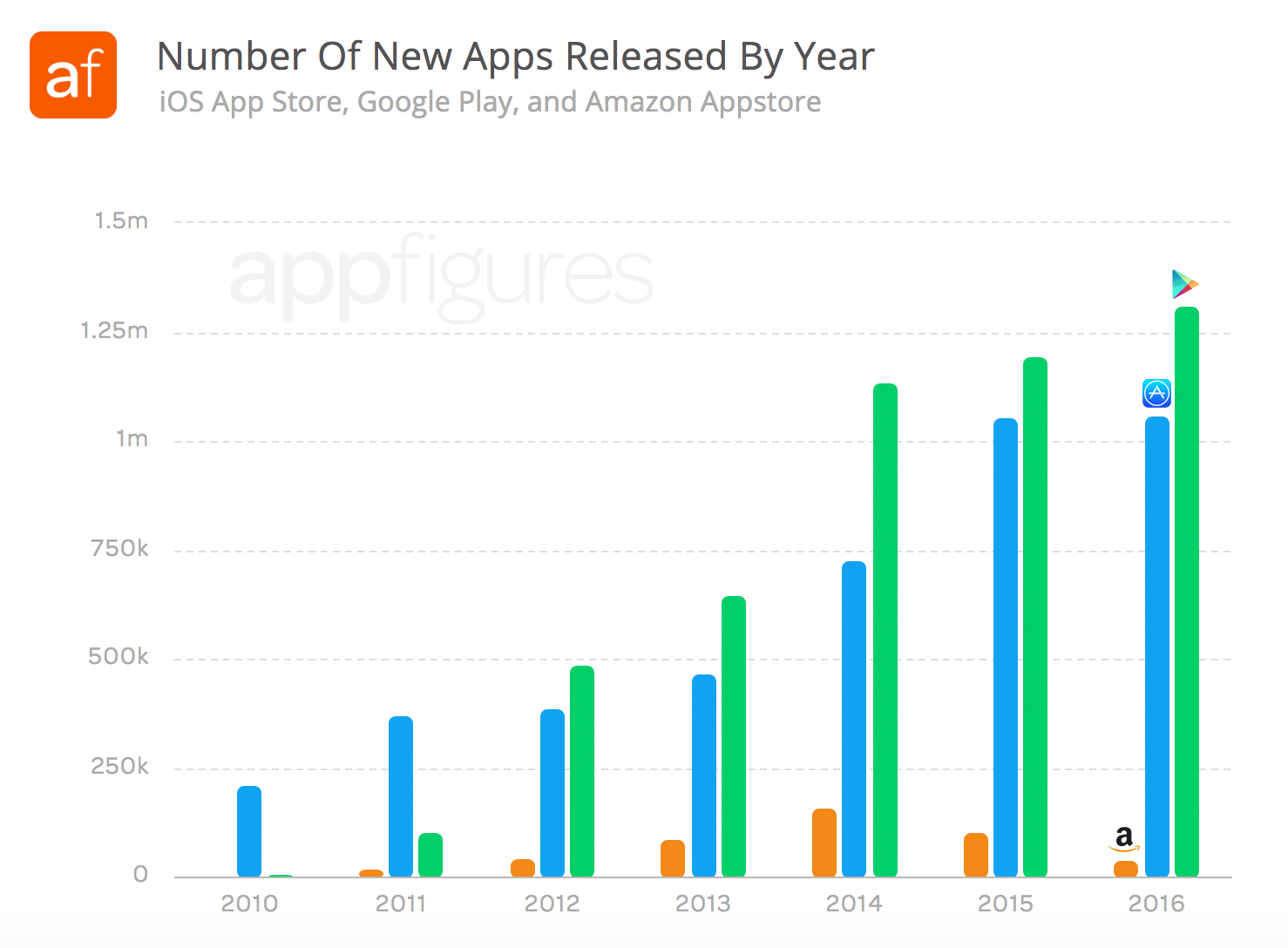 Taking into account the number of new releases for the last few years, you can see that the totals are starting to be constant. Over a million apps were added to the App Store for each of the past two years and to Google Play for the past three years.
One tricky aspect of growth is that the bigger you get the harder it is to sustain double digit growth rates. This year both stores opened with a pretty big catalog of apps. Just as an example, for the App Store to have the same growth as last year developer would need to produce more than 1.5 million apps–roughly 500 thousand more than they actually released.
Don't take this the wrong way, even at a moderate growth rate, app stores will continue to thrive. We see this slowdown in growth as a sign of maturity and stability. What maturity means is that these stores have become entrenched into the lives of billions of people around the globe. Which is great news if you're in the business of making apps.
Note: We've included The Amazon Appstore in some areas of our report, however, with less than 30,000 new apps released in 2016 the Amazon Appstore is no competitor to Apple or Google and will not be the focus of this report.
The Fastest Growing Categories
More than 300 new iOS and Android apps were released every hour in 2016, making Apple's app reviewers pretty busy. Let's take a closer look at what kind of apps these were.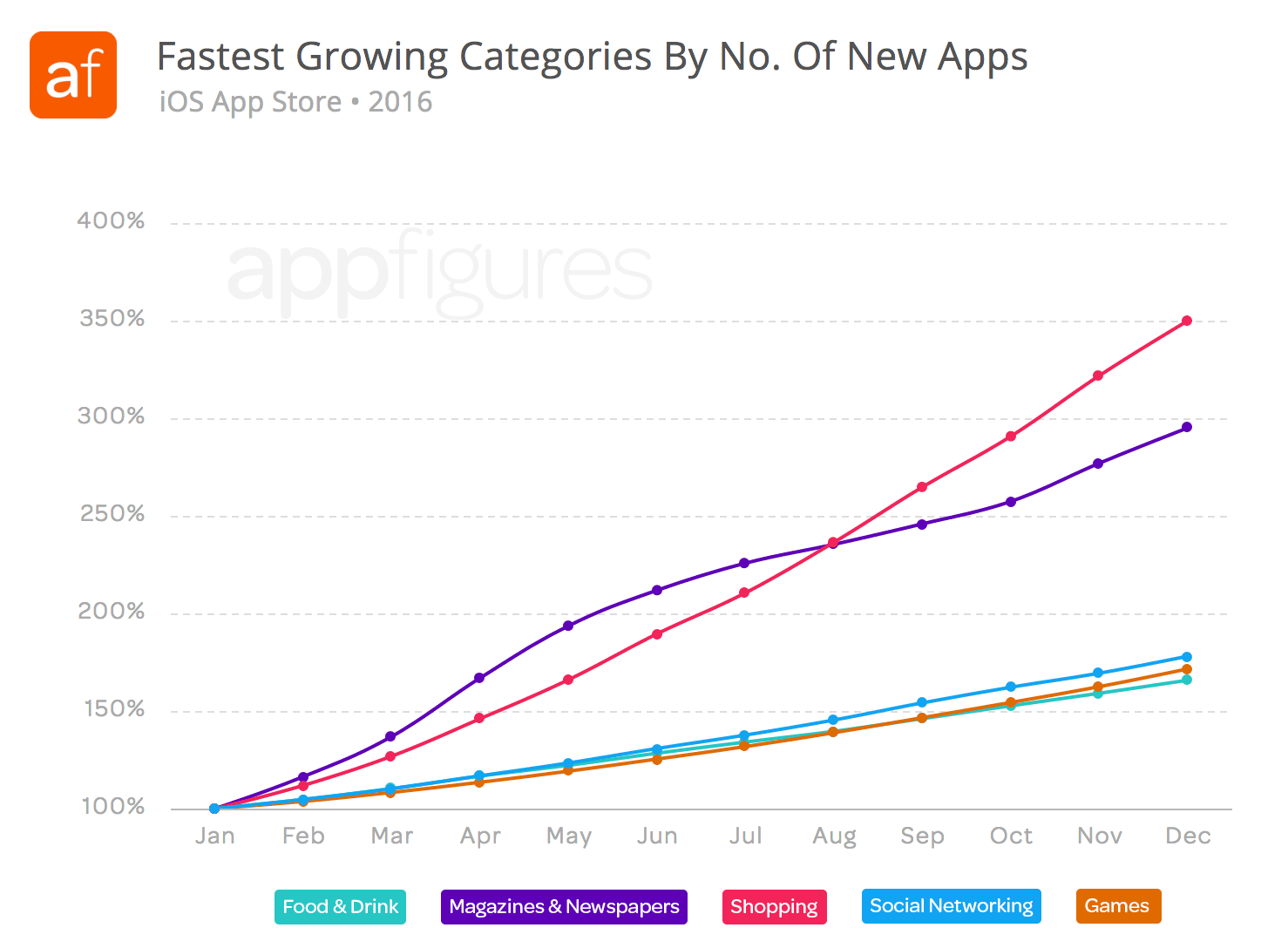 On the App Store, the Shopping and Magazines & Newspapers categories have seen the most growth, followed by Social Networking, Games, and Food & Drink.
iOS Games Nearly Double
Although Games was not the fastest growing in 2016, it did have pretty impressive numbers on the App Store. The category nearly doubled in 2016, adding more than 200k new titles to close the year with almost a half of a million games. Bravo Game developers!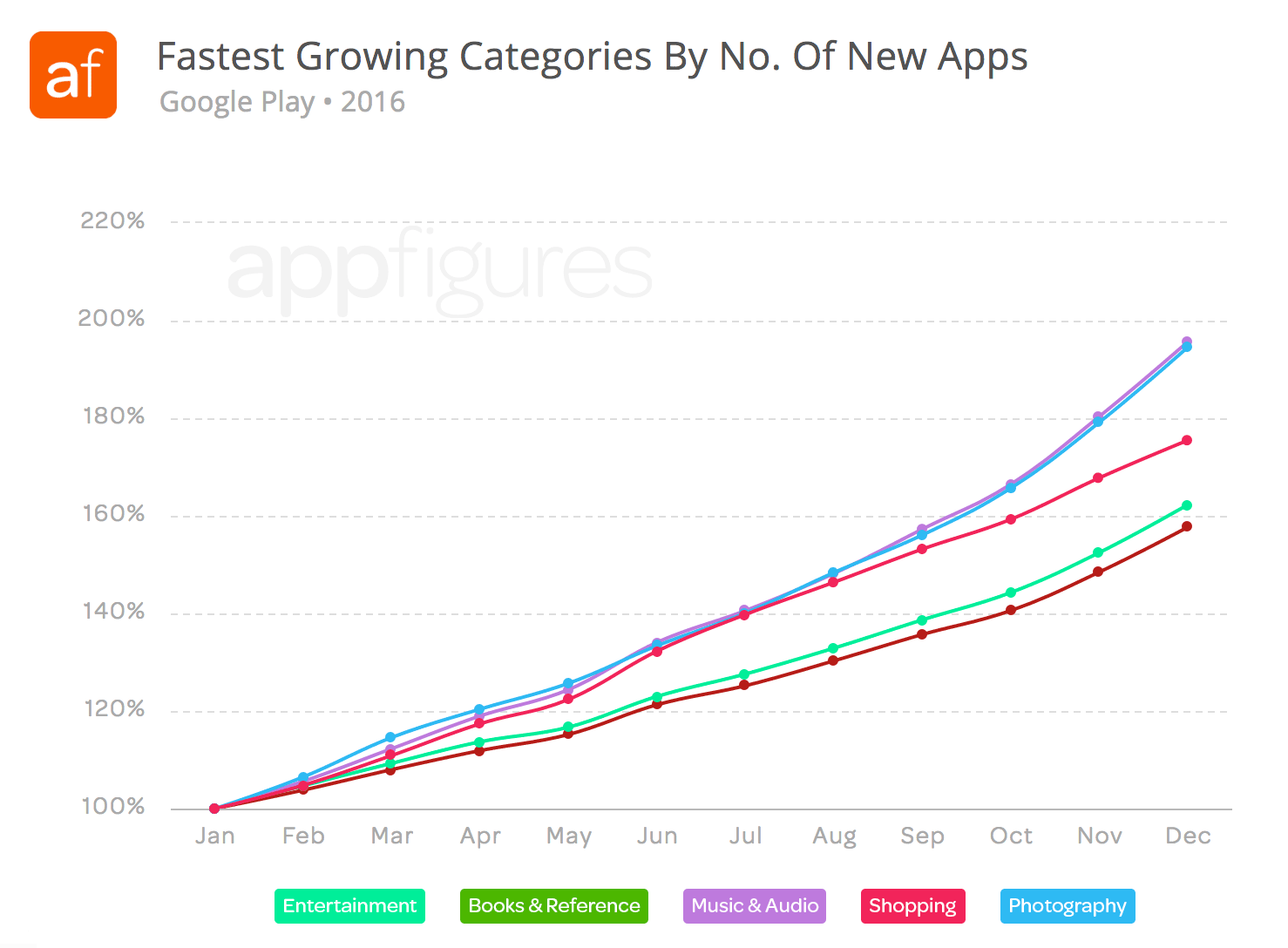 On Google Play, Music & Audio and Photography have dominated, each almost doubling. Shopping, Entertainment, And Books & Reference follow, all growing more than 50% each.
Lots of Shopping Apps
Increased popularity of mobile commerce (aka. mCommerce) in 2016 resulted in a barrage of new apps, growing the shopping category three fold on the App Store and by nearly doubling it on Google Play. However, not all shopping apps were created equal. In late 2016 many "fake" shopping apps were detected across both app stores. The fake apps were made to look like the real brands' app so customers would give them private information. Luckily, both stores caught this in time and removed them right away. because they're no longer active, these apps aren't included in our analysis.
Apple's Big Sweep
In September, Apple announced new regulations that threatened hundreds of thousands of abandoned apps. This raised an obvious question: Is the App Store so big that Apple is okay thinning its catalog?
Probably. While reducing unnecessary competition, this could also be a strategic move by Apple to use quality to differentiate itself from its rival, Google, whose guidelines are much more lax by comparison.
The new regulations effectively force developers to constantly update their apps or face removal. As a policy, this has ramifications for developers but also for the growth of the store. Forcing developers to focus on updates rather than new releases could continue the plateau we're already seeing. We'll be keeping an eye on this in 2017.
Developer Growth: Things Are Slowing Down
Total Number of Active Developers
As of December 2016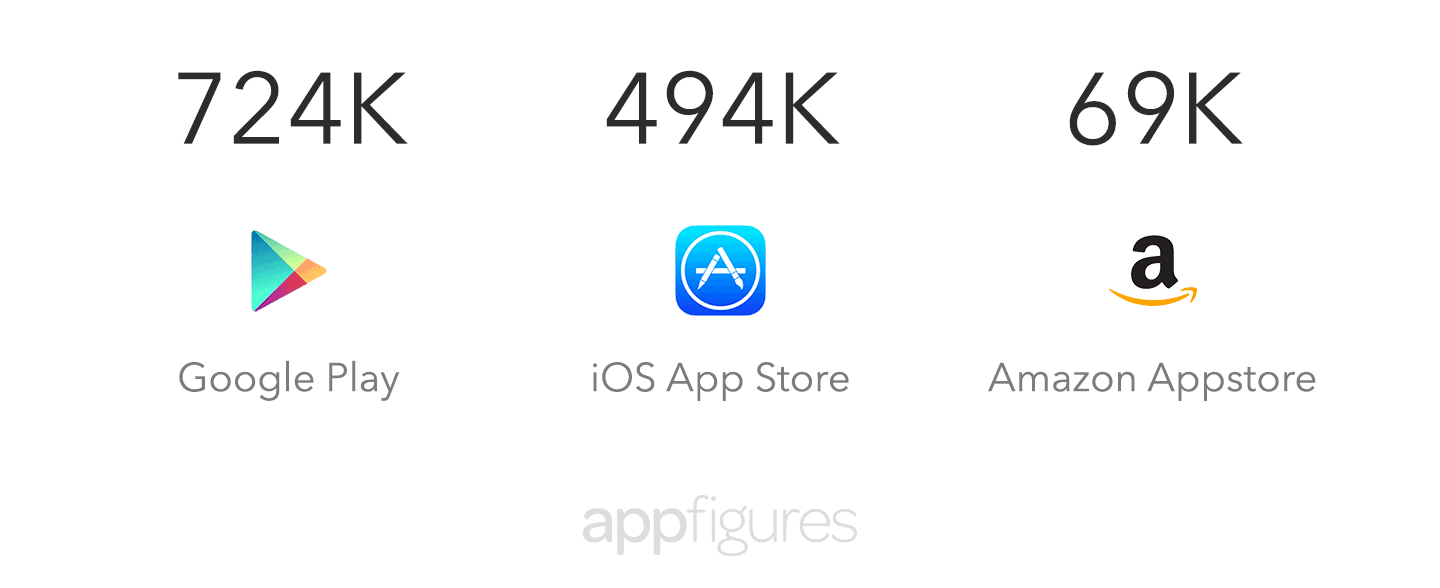 Just as with number of new apps released, we analyzed new developers who entered the market by looking at the first app released by each developer. This includes apps that are no longer available on the store.
Not surprising, the number of new developers releasing apps has begun to moderate in the exact same manner as the number of newly released apps.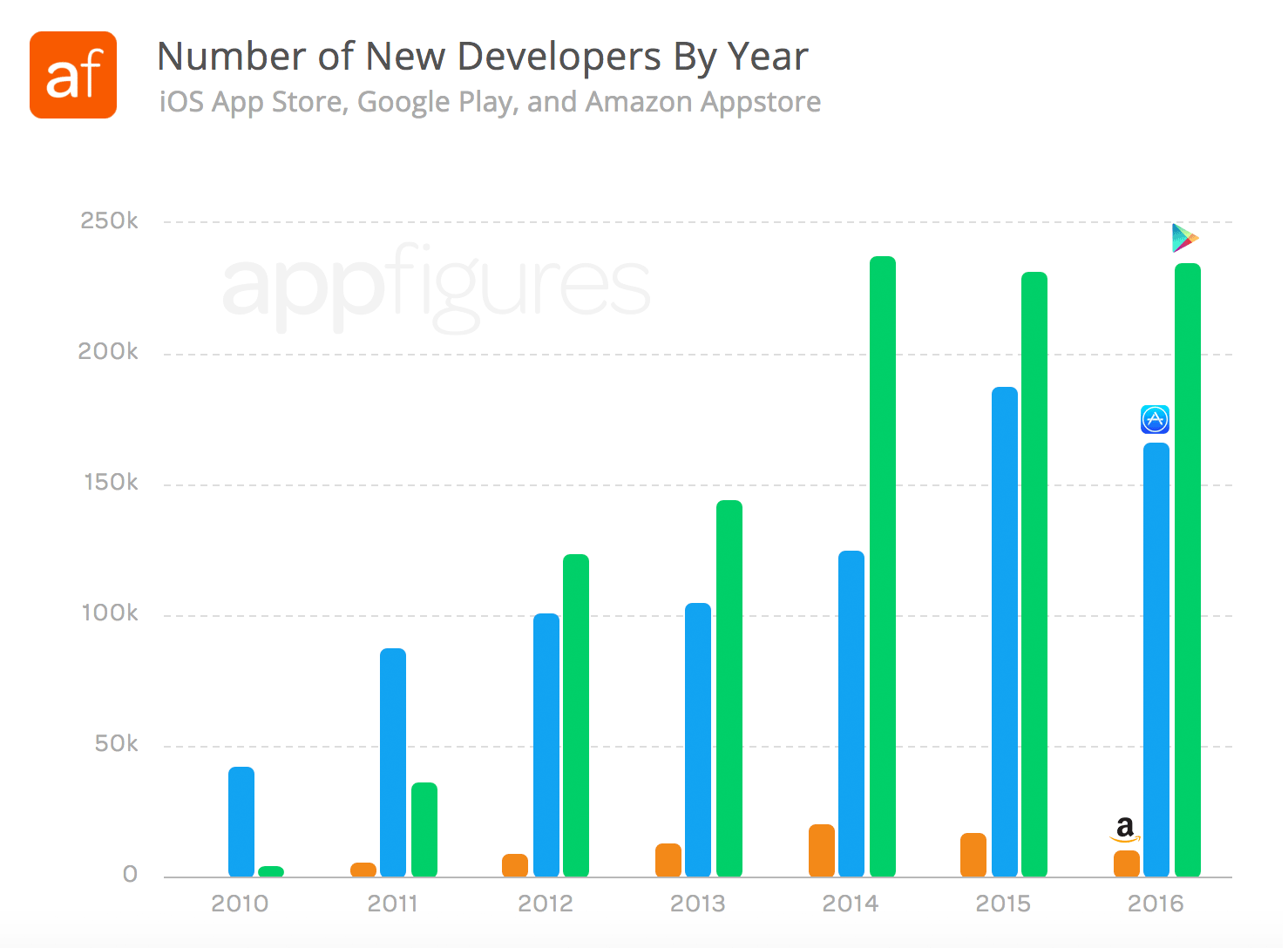 In 2016, more than 412 thousand new developers released their first app. Roughly 60% of those new developers released apps for Google Play with the rest releasing their apps on the App Store. As of the end of 2016, Google continues to maintain its lead in this category as well.
Although growth has slowed down, numbers in the hundreds of thousands are still high enough to suggest there is enough excitement about the opportunities that making apps affords.
Categories of Apps Published By New Developers
Putting aside that new developers and apps has slowed, we pulled the top five fastest growing categories with the most number of new developers to see if there were any similarities to the categories found for new apps released this year.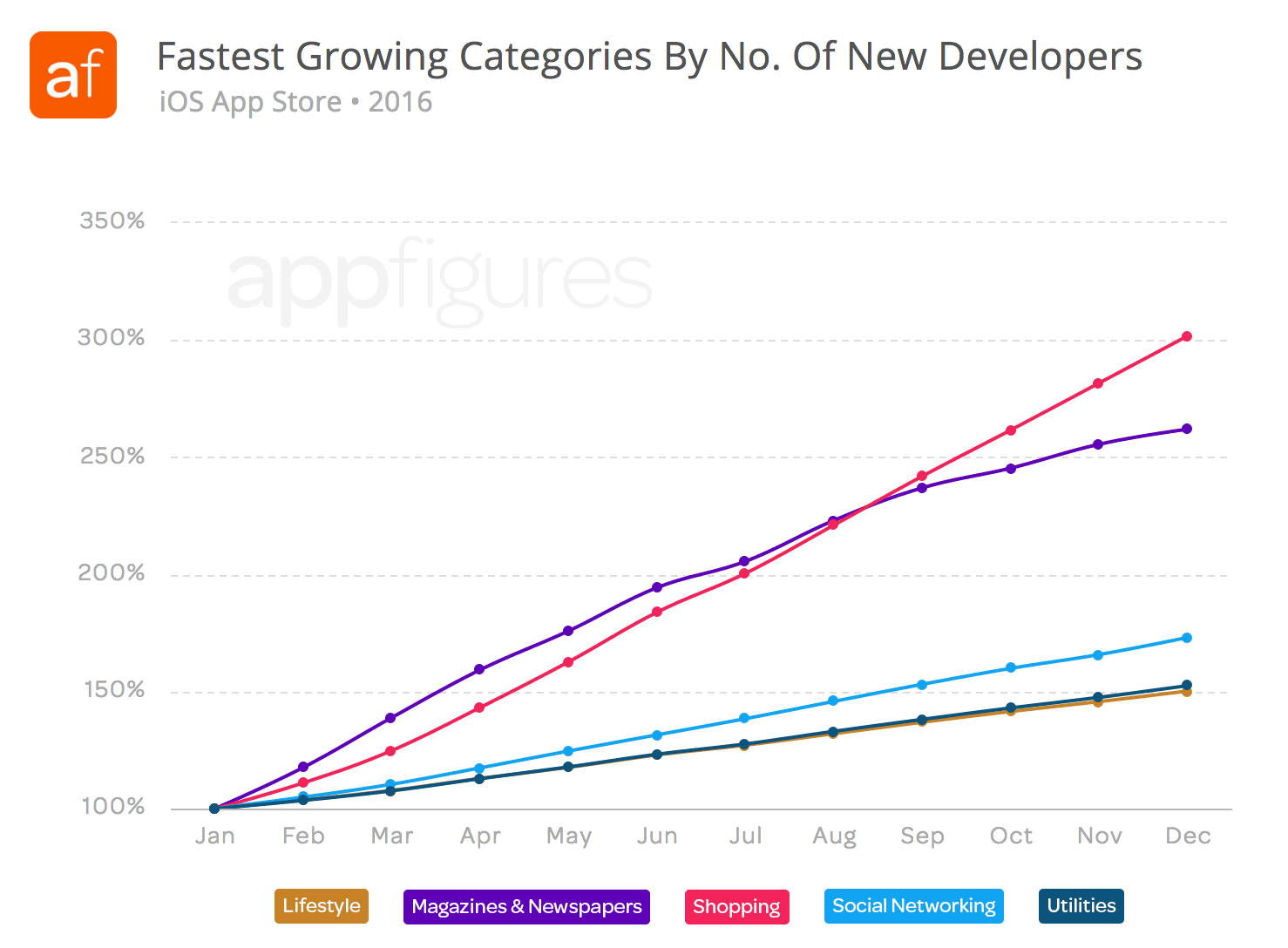 There is. As you can see, these line up pretty well with the fastest growing categories from our apps section. The Shopping category dominates with double digit growth on both platforms, followed by Social, Entertainment, and Utilities.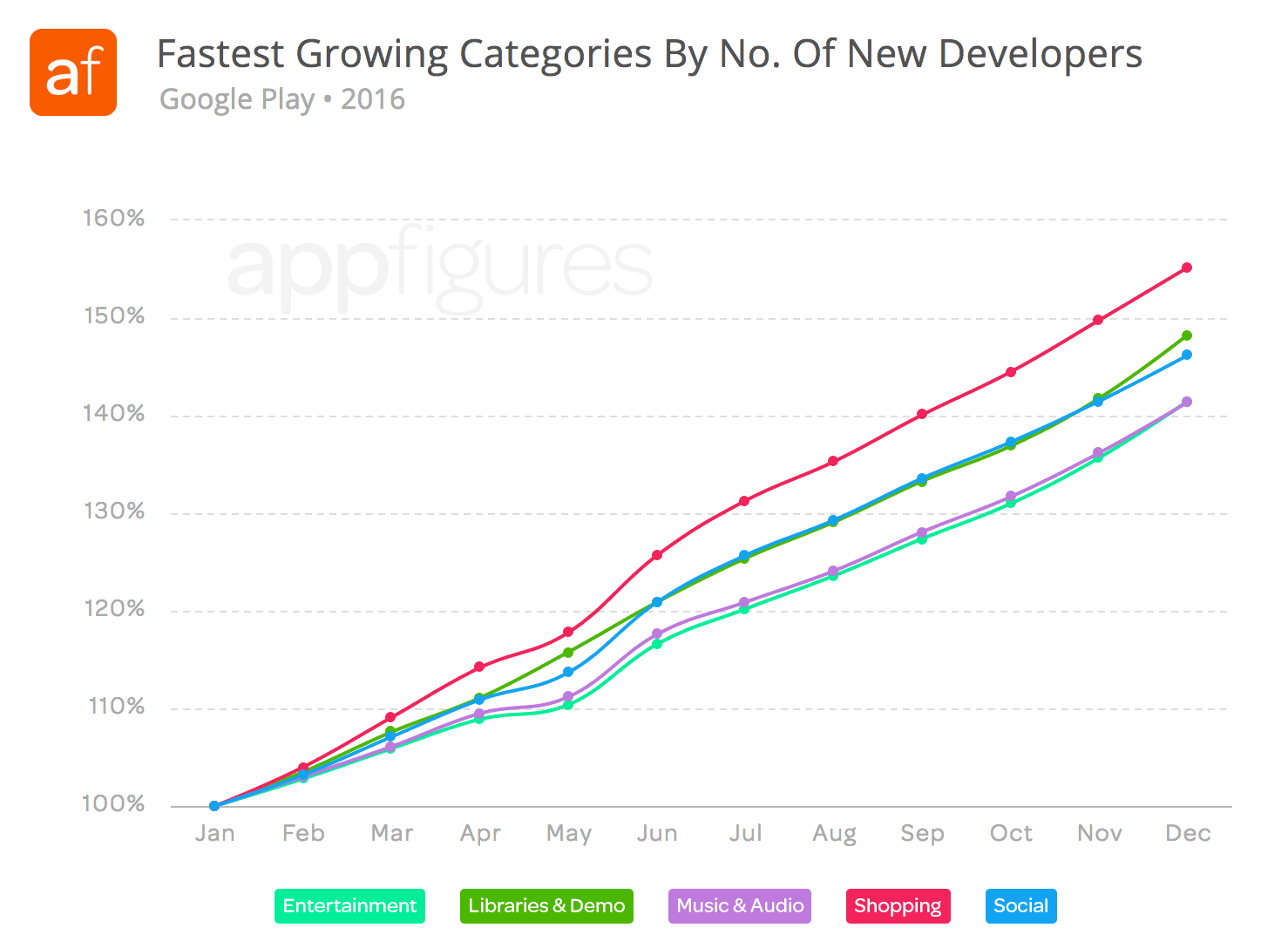 ---
The Most Installed SDKs
Many developers turn to 3rd party tools to help their apps run more smoothly. We looked through millions of apps and compared 20 different categories of SDKs – from Ads and Analytics to Payments and Notifications, to find the top categories and top SDK providers.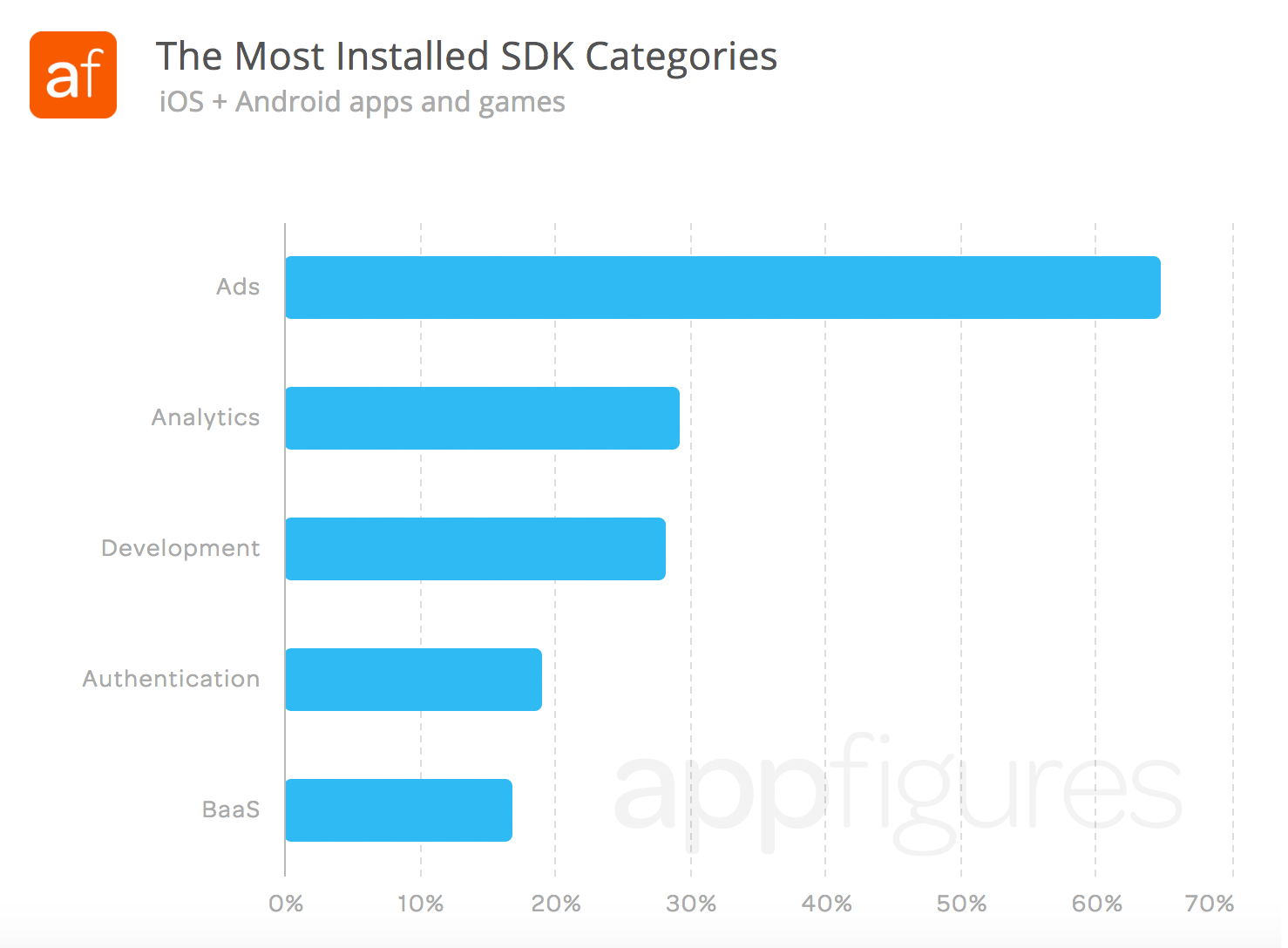 Ads lead the way by a wide margin, which makes sense considering that's a way of monetizing apps. Analytics and dev tools compete for second place, followed by Authentication and Backend as a Service SDKs.
Ranking The Top SDK Providers
Advertising
Nearly 65% of all apps in our analysis had at least one ad network installed. AdMob commands the category. Being integrated into the Android development experience gives it a clear advantage. Chartboost and Facebook follow behind, albeit with a big gap.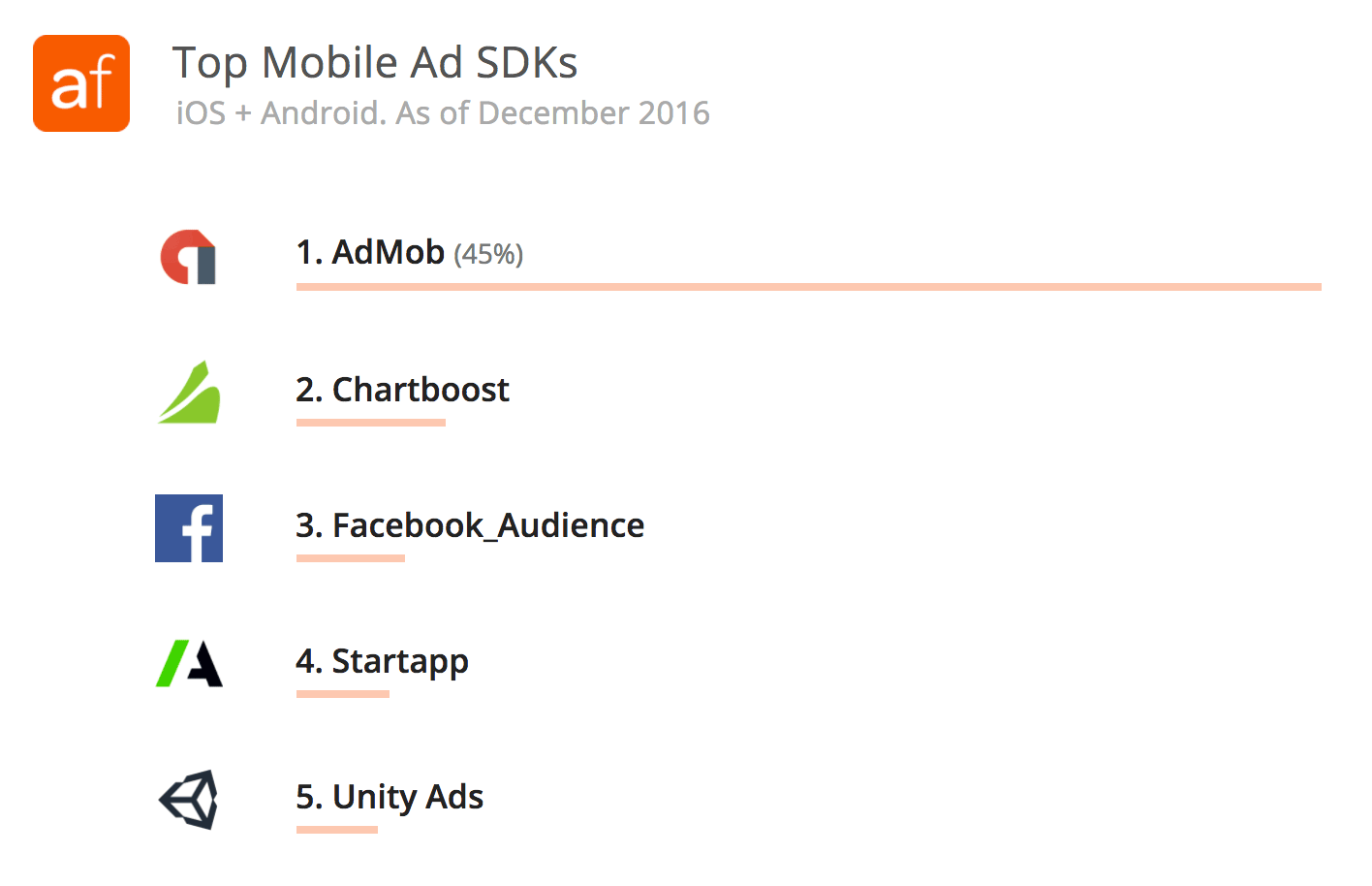 Analytics
Knowing how users interact with an app is essential to developers. That's why we were a bit surprised that only 30% of all apps had an analytics SDK installed.
Again, Google leads the way, followed by incumbent Flurry and Facebook right behind.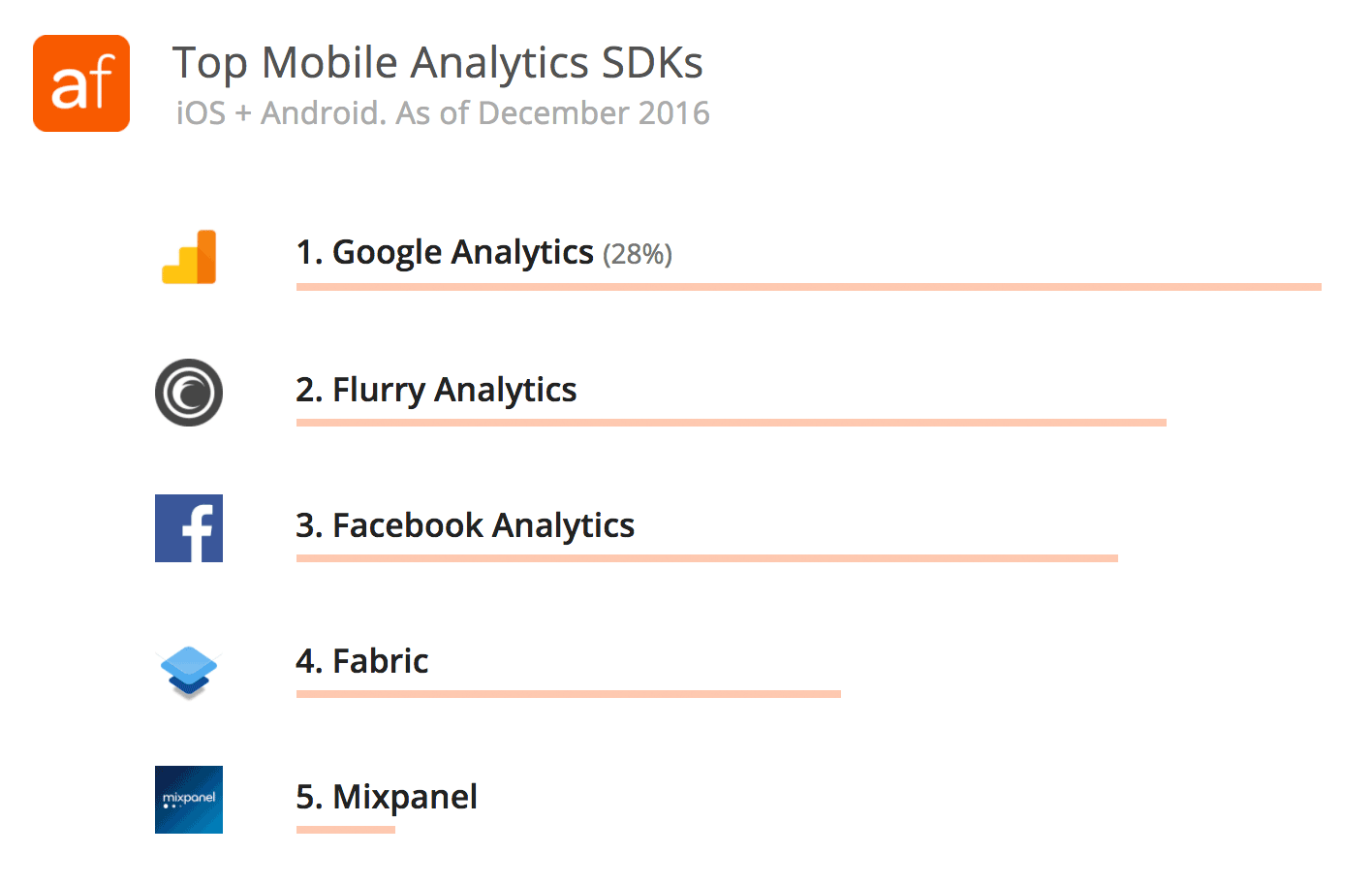 Developer Tools
Many apps and games are built using development engines that streamline the process and enable cross-platform publishing. In this category, Cordova leads the way, followed by Unity with Adobe Air a distant third.
Authentication
Leveraging a user's existing online presence makes for much smoother on-boarding and retention. And what better platform is there for online presence than Facebook? The data says there isn't.

Note: unlike other categories, we focused on Facebook and Twitter here because they're by far the most installed SDKs. There are a few others, but none that can compete at such scale.
Backend As A Service
Firebase and Parse are the most used BaaS SDKs. While there are a few competitors, they're very small at this point (under 1% market share total).
A Deep Dive Into Games
Games account for more than 25% of all apps and more than half of those apps use at least one SDK.
5 of the Top 10 most used SDKs are ad networks. Considering a majority of games are free, this makes a lot of sense. A selection of tools, like Unity and Firebase, show that game developers don't like to reinvent the wheel.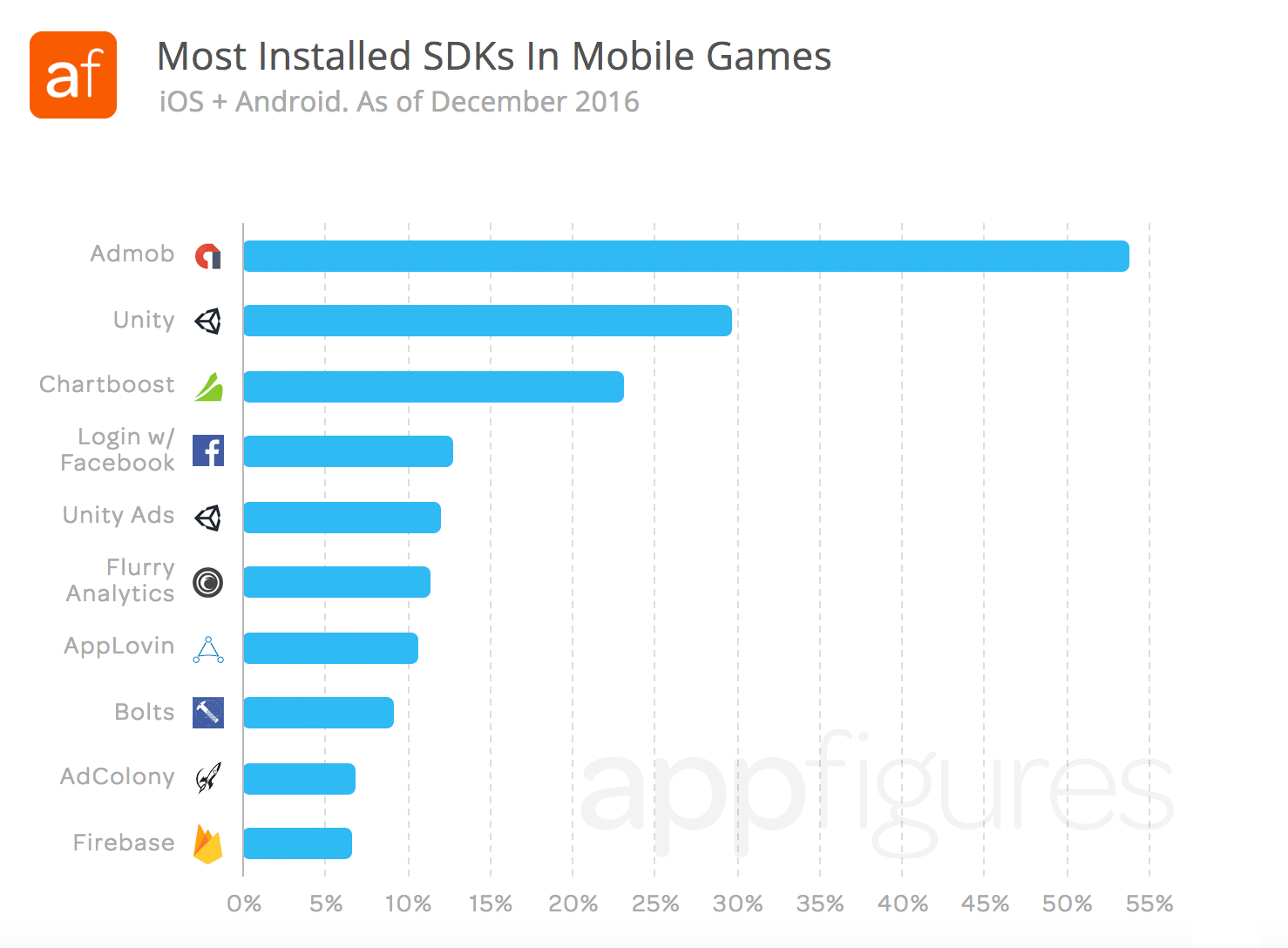 Two Companies Are Responsible For SDKs Installed In > 70% Of Apps
If you're keeping count you've noticed that SDKs from Facebook and Google lead in almost every category. Advertising to backend services, SDKs from these giants are installed in more than 70% of all apps. So, roughly 2 of 3 apps on your smart device talk to Google or Facebook.
What's Next?
The theme of maturity is consistent across both stores, leaving us with some compelling questions for the new year.
How will Apple's cleanup affect its growth in 2017? Will Google follow suit? Will consumers find the subscriptions model appealing? Only time will tell. One thing's for sure, the apps economy is thriving and stable.
About The Data
Data for this report was gathered using Explorer, our mobile app search and intelligence platform. Explorer covers 9+ million apps from all major app stores and provides app store info, SDK analysis, app ranks, ratings, and more.
Written with the help of Lucas Dowiak and Josh Vernazza.