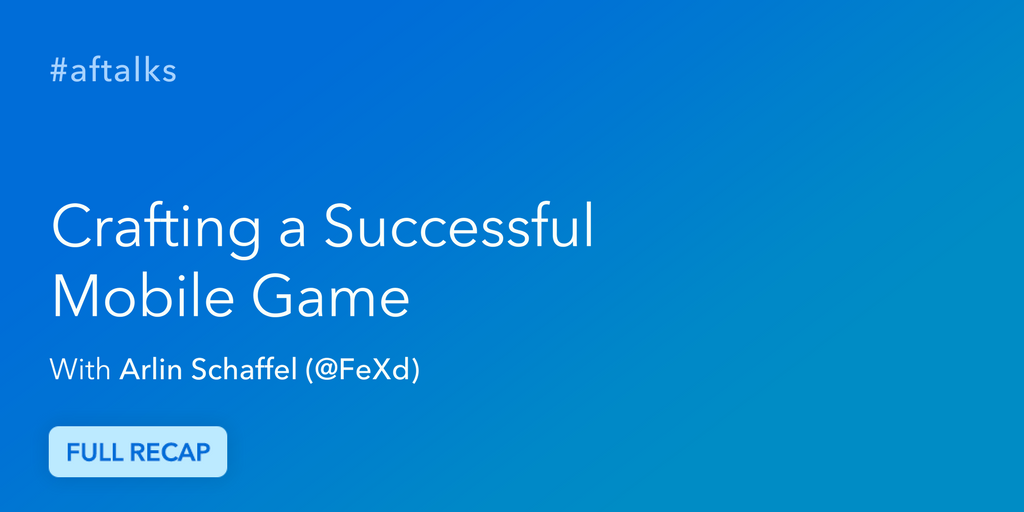 AFtalks is a series of chats conducted on Twitter where we discuss building and selling apps. We've got a different topic/expert every week, and everyone is welcome to join the conversation.
Welcome to our #AFtalks recap!
This week we dove into the ever-growing Games category. With over 1.2 million iOS and Android games, it can be difficult to distinguish yourself from competing apps. We discussed what goes into making a successful game, from coming up with the initial idea, to polish and design considerations.
Our guest this week was Arlin Schaffel, Director of Publishing and Senior Developer at Noodlecake Studios. We asked Arlin to share his insights on this topic with the questions below. Included are his answers, as well as some of our favorite insights from the community: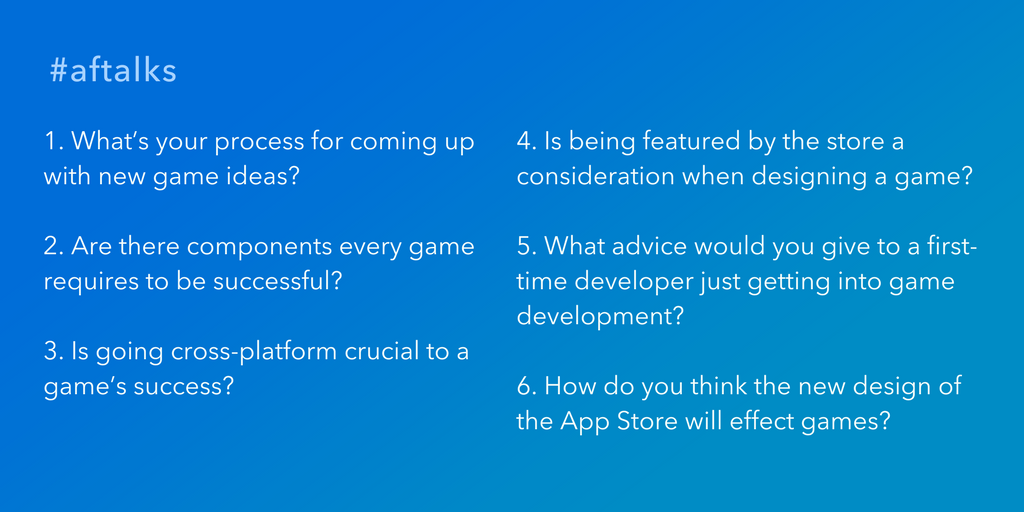 Q1: What's your process for coming up with new game ideas?
A: There is no process! Everyone at Noodlecake is full of ideas. Our designers have pages of sketches, we always have prototypes on the go.
Dogs. Mostly dogs. pic.twitter.com/qlZ6Tntlbk

— Noodlecake (@NoodlecakeGames) August 1, 2017
Q2: Are there components every game requires to be successful?
A: We publish & create a variety of successful games in many different genres. Our only focus is ensuring everything is fun and polished.
Q3: Is going cross-platform crucial to a game's success?
A: Building cross-platform games is a must! Focus on the larger markets. Localization is also important. English only games don't cut it.
Yes – especially depending on your target geo market and audience. Don't forget localization too (and language!). #aso #AFtalks

— Appyness (@appynessmktg) August 1, 2017
We primarily use @Unity3d, @cocos2d & @cocos2dx. However we're always willing to work with new technologies if they make sense. pic.twitter.com/5G9lu1ETDR

— Noodlecake (@NoodlecakeGames) August 1, 2017
Q4: Is being featured by the store a consideration when designing a game?
A: Featuring is definitely important! But never think about featuring or monetization too early. Find the fun of the game first. Always.
Just be normal and make good content. Don't spam your contacts. If you don't have contacts, find a partner / publisher / friend who does. pic.twitter.com/HMwrhGfgPM

— Noodlecake (@NoodlecakeGames) August 1, 2017
Q5: What advice would you give to a first-time developer just getting into game development?
A: Make more games. Don't expect to make one game and have an overnight success. Keep iterating and getting better. Take feedback seriously.
Q6: How do you think the new design of the App Store will effect games?
A: We can't wait for the new App Store! Games will be at the forefront of everything and developers will have their stories told. Exciting.
---
Check out the rest of the insights we heard today on the #AFtalks hashtag.
A huge thanks to Arlin and to all those that were part of today's discussion! Join us for our weekly Twitter chat every Tuesday at 1pm ET (bring your friends!). See you all next week where #AFtalks about Trends.
Resources:
Platforms Noodlecake Uses