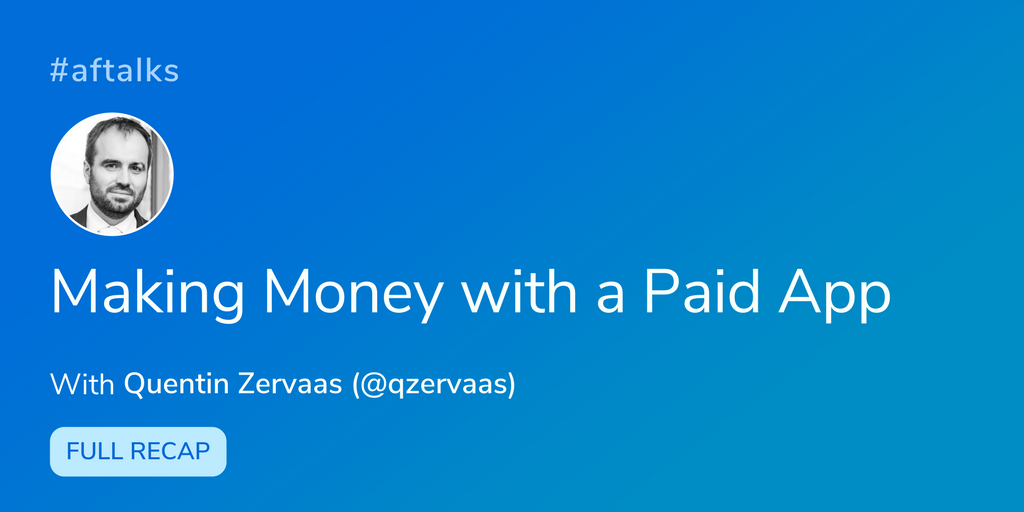 Welcome to our #AFtalks recap!
In recent years competition between pricing strategies for apps has increased, especially between paid and freemium, and now the new subscriptions model. This week we took a deeper look at the paid up-front model and whether it can still be successful, and what challenges developers should pay attention to when moving forward with this strategy.
Our guest this week was Quentin Zervaas, a 2016 Apple Design Award winner and developer behind paid apps Streaks and HealthFace from Crunchy Bagel. We asked Quentin to share his insights on this topic with the questions below. Included are his answers:
Q1: What did you take into consideration when deciding on a paid-upfront model for your app?
A: We knew we had an app that people would love. But App Store economics is difficult: for a free app with a premium upgrade, you need some serious download numbers in order for it to make a worthwhile return.
Q2: How did you determine the price of your app?
A: One of the key things is that we knew that you needed to put in time with Streaks in order to get value out of the app. Because of this, we didn't want to price too cheaply, since we didn't want it to become a "throwaway app" – you know, one of those 99c apps you buy and try for 2 minutes then never revisit. If you spend more on an app you're much more likely to give it more of a chance.
Followup: What sort of pricing experiments have you conducted?
A: The only pricing change we've made in 2+ years is that we recently increased the price by one level. We've considered other experiments in the past, but none of the other models felt right. It's also technically difficult to change pricing models, say from paid up-front to subscription or free with IAP.
Q3: Have you thought about and/or experimented with other pricing models (ad-backed or in-app purchases)?
A: We've considered IAPs, but we didn't want the little "In-App Purchases" badge to appear on the app listing. I'm personally not a fan of IAPs. Conceptually they're great, but at this point, they have a negative connotation due to a large number of apps that manipulate people into spending as much money as possible. The particular apps seem focused on feeding an addiction, rather than providing great value to their users.
Q4: How do you feel about the new subscription model?
A: Any new option that provides developers with the flexibility they need is great. It's not for every app, although as an app developer, the opportunity to allow customers to spend ongoing money is very appealing. It's tough making money on the App Store – especially in a sustainable way. Many customers expect free ongoing updates, and because of this, the subscription model is becoming more popular.
Q5: What are some of the benefits a pay upfront model affords?
A: I'm a big fan on a simple transaction. Here's a product, this is the price. Pay that and the product is yours. No nickel-and-diming along the way. I try to price my apps the way I want the apps I buy to operate. Having said that, the ongoing revenue in order to pay for sustained app development is a tricky one, which the paid up-front model doesn't solve unless you can continue to bring in new users constantly.
Q6: Are there any challenges this pricing model brings?
A: While you don't want to game or trick your users into paying more money than necessary (such as some of the IAP apps mentioned above), there are a number of users that are willing to pay more money. You want to give these users every opportunity to pay your more money. The paid up-front model makes this hard without some kind of IAP or subscription to follow it up.
Followup: How did you overcome that challenge?
A: Still searching for an answer! That was one of the reasons we recently increased the price.
Q7: If you were to start today, would you pick the same model?
A: Yes. Interesting story though: originally in Streaks, there were 6 different color schemes you could choose from. We added 6 more, but you could only access them if you shared the app on Twitter/Facebook (in fact, we didn't actually verify this – you just had to tap the button). Users hated this and it killed our reviews – so we just opened up all of the themes for all users. Users felt like they'd already paid up-front so should have access to all of the app features.
It's something users are sensitive to and you have to be careful about. Having said that, I think we could have presented this slightly differently in the app to get more of a positive reception.
---
Check out the rest of the insights we heard today on the #AFtalks hashtag.
Huge thanks to Quentin and to all those that were part of today's discussion! Join us for our weekly Twitter chat every Tuesday at 1pm ET (bring your friends!). See you all next week!
Resources: