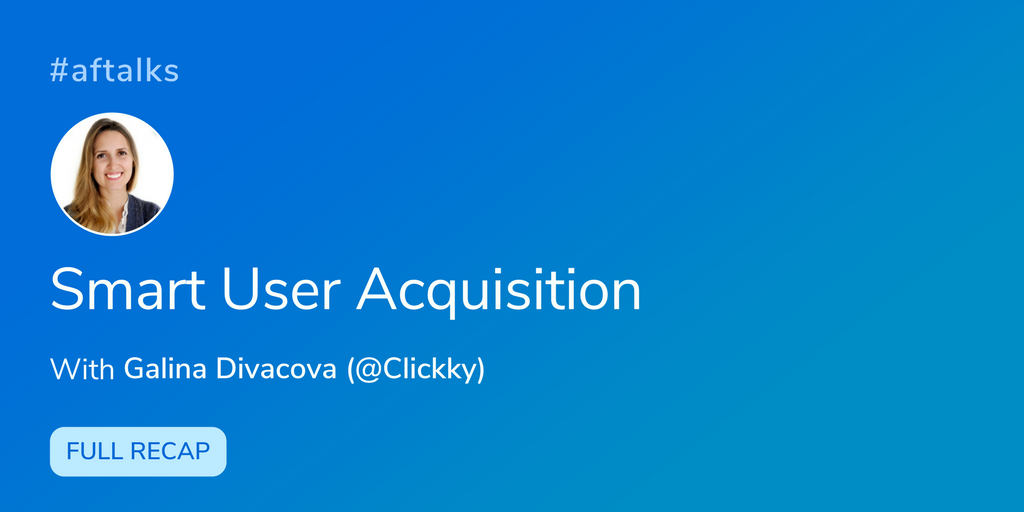 Welcome to our #AFtalks recap!
This week we explored how to grow an app's audience with smart paid User Acquisition. We took a look at the benefits, lifecycle, metrics and more, to give the community a better understanding of what decisions an effective User Acquisition campaign looks like and how to build yours.
Our guest this week was Galina Divakova, Chief Marketing Director at Clickky. We asked Galina to share her insights on the topic with the questions below. Included are her answers, as well as some of our favorite insights from the community chat: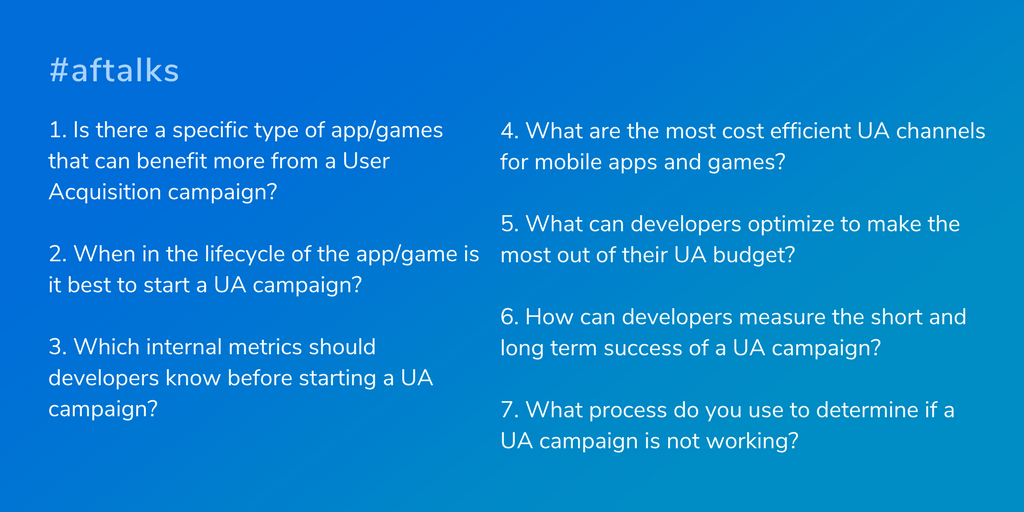 Q1: Is there a specific type of app/games that can benefit more from a User Acquisition campaign?
A: As a rule, game apps with monetization model based on in-app purchases tend to benefit the most from user acquisitions campaigns. Apps that offer freemium monetization model also tend to derive more value from UA, then the apps that rely on ads to monetize the traffic. The experience we had with running CPI campaigns for strategy games shows that they can be really successful, with Day 1 Retention Rate more than 30% and Day 30 ROI up to 128% from one source.
Check out @Clickky's case-studies to learn more about how strategy games are effectively using #useracquisition: https://t.co/yN8HmMupHU https://t.co/bhoLSQedGv

— Appfigures (@appfigures) August 22, 2017
Q2: When in the lifecycle of the app/game is it best to start a UA campaign?
A: The best time to start UA is when you already have a detailed user profile you are going to target. Defining the right target audience, the audience that will most likely allow receiving the positive ROI is crucial for a successful UA campaign. Start with free promo activities, attract users, build analytics on users you have, concentrate on demographics, geo and behavior patterns. After a month, you'll be ready to launch a paid ad campaign.
Points where users quit — are those natural points or they are getting confused? Retention rate – how often do they return to the app?

— Clickky (@Clickky) August 22, 2017
Q3: Which internal metrics should developers know before starting a UA campaign?
A: The important metrics are ARPU (the average revenue per user), ARPPU (average revenue per paying user), DAU (daily active users), WAU (weekly active users), MAU (monthly active users), average RR (user retention rate). Other metrics to keep an eye on are LTV (lifetime value of the user) and ROI of marketing channels. The choice of metrics to follow depends on goals app developers try to achieve. It is also important to understand how much they are ready to pay for that.
Q4: What are the most cost efficient UA channels for mobile apps and games?
A: Facebook. It's perfect for making first steps with a UA campaign and clearly determining the user profile due to its comprehensive targeting options. Having gathered data from a Facebook campaign, developers can go ahead and launch a large-scale campaign by CPM or CPI pricing model.
Try #facebook if you're looking for a cost efficient UA channel for your app/game. Unsure on how? Learn more here: https://t.co/HmFWCwW1jB https://t.co/Vj1Hf3sZDj

— Appfigures (@appfigures) August 22, 2017
Q5: What can developers optimize to make the most out of their UA budget?
A: We suggest to concentrate on optimization of the sales funnel, having taken into account the goals developers have, be it acquiring as many users as possible or increasing the number of in-app purchases.
Followup: How can working with an agency help and/or how can segmenting users help?
A: Agencies usually require large budgets and unlimited install caps. Small developers wouldn't have enough resources to work with agencies in the first place. We'd suggest taking into account ad networks and self-serve solutions, starting with the most obvious one – Facebook. Segmenting is crucial for a successful user acquisition campaign. The better you know your audience, the more chances you have to reach the users that fit your monetization model.
It helps finding that particular audience that will most certainly be genuinely interested in your app. Better targeting -> Better ROMI.

— Clickky (@Clickky) August 22, 2017
Q6: How can developers measure the short and long term success of a UA campaign?
A: For measuring short-term results, developers may watch the Retention Rate on day 3 and day 7 after the app install. The key goal here is to acquire loyal audience in the short-term. Later, for understanding long-term results, developers can concentrate on the tendency of users to make in-app purchases, ROI and LTV. These metrics are important for finding and retaining paying audience that is interested in in-app purchases.
Q7: What process do you use to determine if a UA campaign is not working?
A: If the campaign short-term goals were not achieved, it's a clear sign that campaign isn't working. If there weren't enough downloads or the pre-set amount of in-app purchases was not reached, the campaign has most probably failed. Surely, it takes several months to see the final results and understand, whether a campaign was profitable, but to recognize unhealthy patterns on early stages is the most important task that stands for an app developer.
Followup: When it doesn't work, should you make changes, or end the campaign and start over?
A: It all depends on your budget. The best option is to analyze the traffic sources, see what has worked and what didn't in terms of bringing paying customers aboard and switch off the unsatisfying sources.
---
Check out the rest of the insights we heard today on the #AFtalks hashtag!
A huge thanks to Galina and to all those that were part of today's discussion! Join us for our weekly Twitter chat every Tuesday at 1pm ET (bring your friends!). See you all next week where #AFtalks about Working for Yourself: Balancing Freelance Work & Indie App Development.
Resources:
Clickky – Mobile monetization and user acquisition done smart