In 2009, a small Finnish company by the name of Rovio took a flash game that had been a crowd favorite online and turned it into a casual game for the, at the time, very new iPhone.
Fun gameplay, simple controls, realistic physics, and playful graphics combined with little competition on the App Store, tons of luck, and a string of solid business decisions turned Angry Birds into a household name that kids and adults recognize instantly.
Tomorrow, the Angry Birds franchise will be turning five, and to honor its long standing success, we took a look at the twists and turns the franchise took over the years as an educational adventure in App Store survival and triumph.
In this post we'll be going back to the beginning and cover three key turns that kept Angry Birds' initial success going and turned it into a franchise: growing a portfolio of themed games; changing gameplay; and partnering. We'll conclude the post with a few actionable takeaways every developer can benefit from, because there's pretty much a lesson in everything.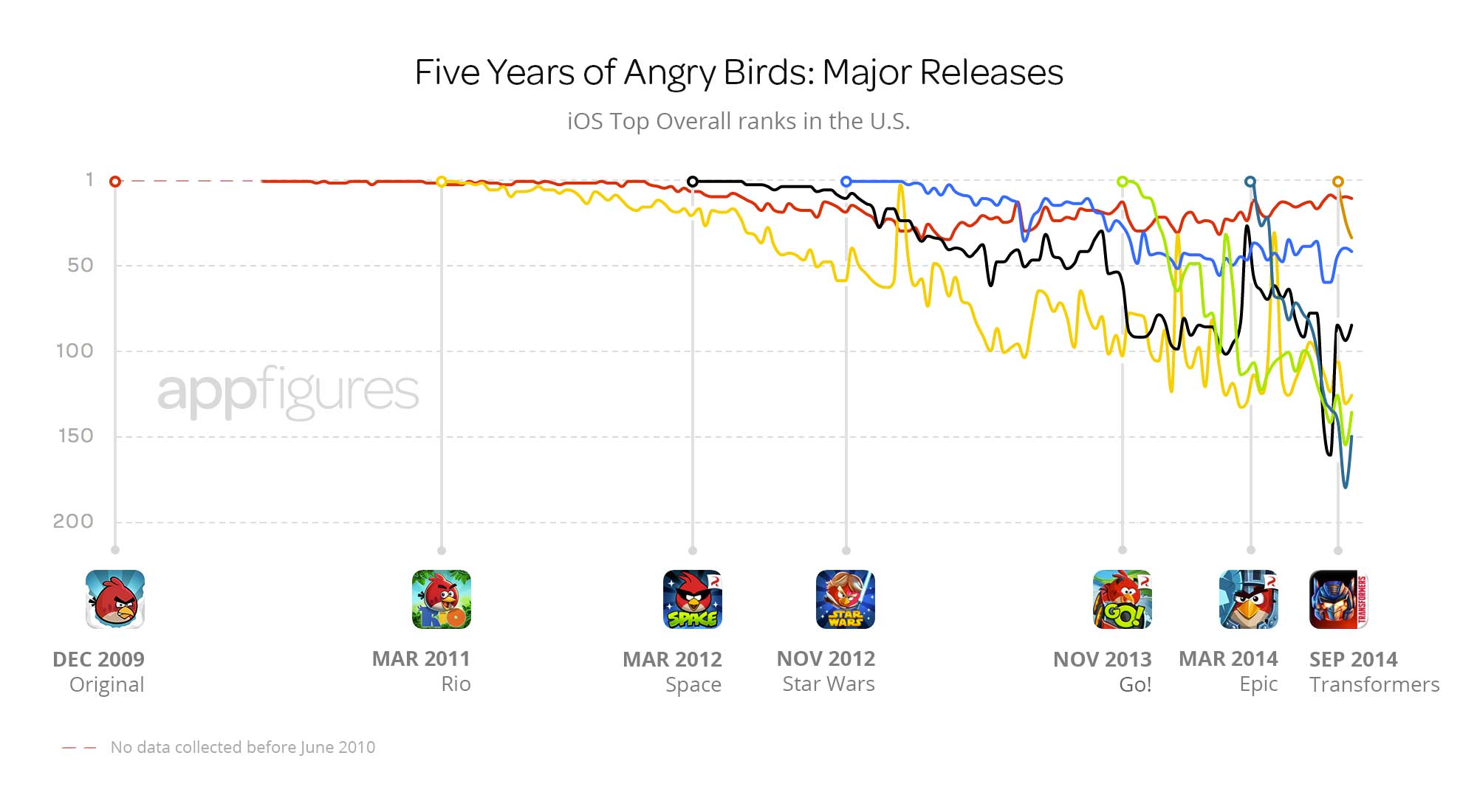 How did it all start?
The original Angry Birds was not an instant success in the U.S.
Before creating Angry Birds, Rovio had produced 51 titles, selling them to companies like EA and Namco. By 2009, however, the company was struggling to remain afloat. To fix this situation, they took matters into their own hands and decided to produce a game all for themselves. With the iPhone being the hot new device, the company opted for a calculated approach, aiming to produce a game that was so simple it wouldn't need a tutorial and have simple controls that are easy to get started with but take a while to really master to get users engaged faster and for a longer period.
When Angry Birds hit the US App Store in December of 2009, it was flop, albeit a very pretty one. The game didn't chart well and had little traction, but giving up isn't how you build a franchise. Rovio realized the big markets were hard to break into, so they focused their efforts on smaller markets such as Sweden, Denmark, and Greece, where they were able to climb the charts quickly.
In February of 2010, Apple first featured Angry Birds in the UK (after months of pressure from Rovio) and that's when things started to take off.
Over the next five years, the team at Rovio went on to do some amazing work both on and off the app store. The rest of the post will focus on Rovio's activities on mobile app stores using our app store analytics data going back as far as 2010.
Building a portfolio
Succeeding with one app is hard, but once Rovio built up momentum they realized that their users wanted more. They wanted constant updates. The problem was that in the App Store, every time a new update is released, the game would lose its ranks and ratings. So in 2010, Rovio released Angry Birds Seasons, a title that was designed to update and would attract attention for its ever-changing themes. Shortly after, Rio was introduced, followed by a variety of new titles. Much of the franchise's success came from expanding to more titles, and as you'll see later in the post, the addition of more titles created more opportunities and ultimately more engagement.
We've sifted through all of the titles released by Rovio in the last five years and will be focusing on the following six in addition to the original. We feel these six apps tell the story of the Angry Birds franchise in a very concise and focused manner, and will let us take you through the major turns Rovio made on its way to app store domination.
From left to right: Rio, Space, Star Wars, Go!, Epic, and Transformers.
Throughout this post we'll be looking at these specific apps' data, individually or in aggregate, and highlighting interesting bits.
Expanding to more platforms
Angry Birds for Android was first published through the Amazon Appstore, not Google Play
Angry Birds was designed for the iPhone and the iPhone's audience, mostly because that was the hottest device at the time. Over the years, that's changed. Android gained a fair share of the market and Rovio grew as well.
In March 2011, the original Angry Birds game was released for Android. We expected the game to be released on Google's own app store, Google Play, but it wasn't. Angry Birds for Android was initially released through the Amazon Appstore. Eight months later, Angry Birds was released on Google Play.
Experimenting with bundles
With the release of iOS8 earlier this year, Apple made it possible for developers to bundle their apps and sell them for a discounted price. On 9/18 Angry Birds: Ultimate Slingshot Bundle went live and went on to top both the Games and Top Overall charts fairly quickly.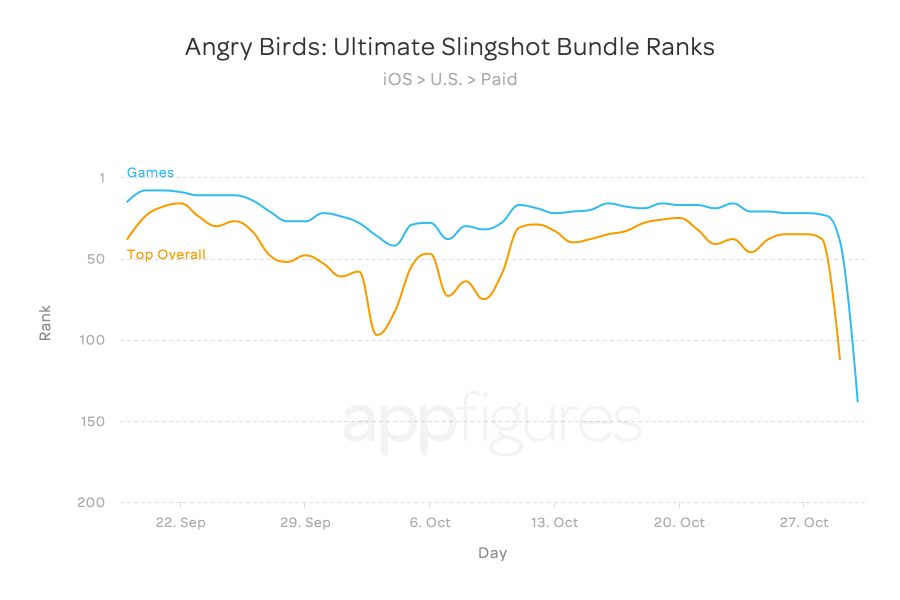 Although it charted well and had great reviews, the bundle was pulled just under two months later. Since there's no other explanation available, it's likely that the reason for the bundle being pulled is that the new revenue it generated didn't make up for the loss it created by cannibalizing the individual apps' downloads at full price.
We can theorize that this means demand for Angry Birds is fairly inelastic, making a price drop result in reduced revenue, but that's a topic worthy of a separate post in the future.
Changing up the gameplay
By 2012, the birds had started to lose their ranks. Two years is a long time to dominate the Games charts. Rovio anticipated that, and took an interesting approach, producing a game that used the birds everyone fell in love with but in a slightly different way. They sent them to space with a slightly different gameplay that got new and also existing users excited again. The game opened well and held a top 10 position for quite some time.
Changing gameplay is a technique Rovio adopted after the success of Angry Birds Space. The company then went on to make additional bold changes:
Space (early 2012) – First deviation from the standard gameplay with the addition of low gravity and multiple Planets.
Go! (late 2013) – Kart racing, Rovio's first real shift away from bird flinging.
Epic (early 2014) – Tower defense.
Transformers (late 2014) Side-scrolling shooter.
Let's see how users reacted to the new releases: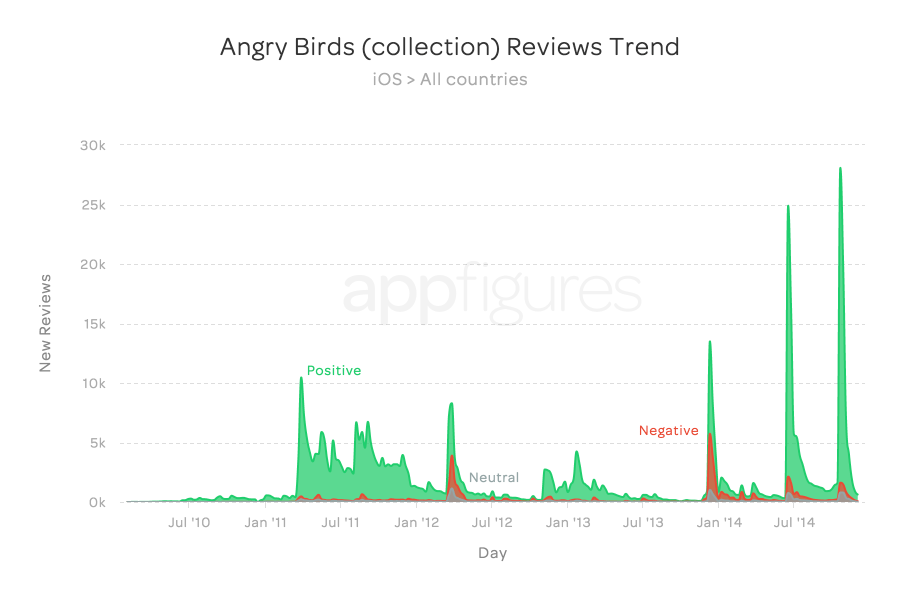 Of all reviews received by Angry Birds games over the years, only ~10% are critical
The chart above shows the count of star ratings for all of the apps we've been mentioning, combined, broken down by their sentiment. To simplify the chart we created three groups: Negative – 1 and 2 star reviews, Neutral – 3 stars, and Positive – 4 and 5 stars. Examining the chart we can see that with few exceptions, the overall sentiment is decidedly positive. We can also see that users were very engaged with every release and gave feedback right away.
Not every release is a hit
While most app launches resulted in mostly positive reviews, Angry Birds Go! was criticized by users, receiving the worst launch by the ratings. Let's take a look at this title's reviews as they paint a very clear picture:
More than 40% of reviews for Angry Birds Go! received in the first few months were negative
You can see the first few days received almost as many negative reviews as it did positive ones. A combination of crashes and lack of support for older devices (iPods) caused a ruckus, but the real problem with Go! was that it wasn't unique. Where Angry Birds created a category of flinging games, Go! simply competed with every other racing game out on the app store.
Rovio also made another interesting move with Go!. A month before the official release, they released an app dedicated to a countdown to Go!'s release, and half of reviewers pretty much hated it. Let's look at Countdown to Angry Birds Go!'s ratings: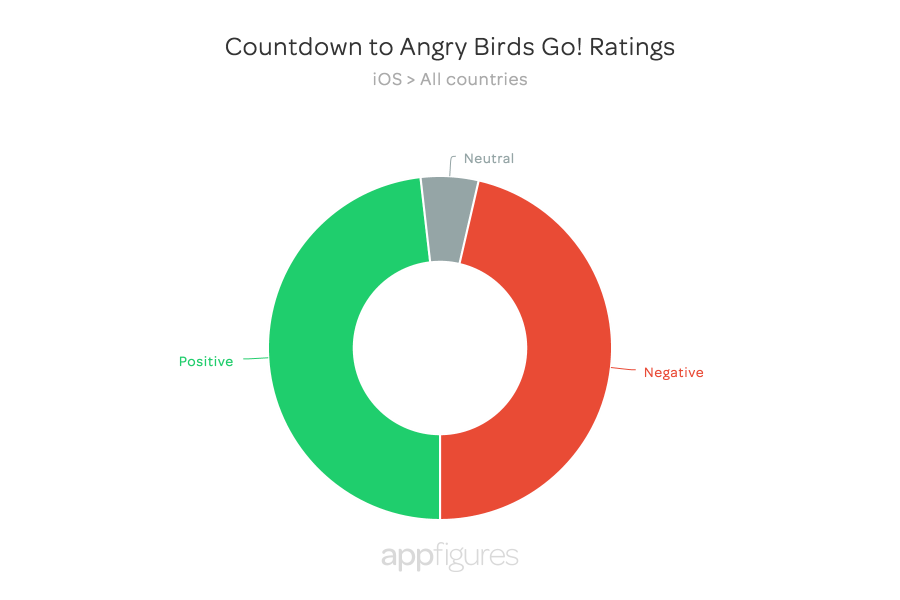 Although Countdown was only available for a short month, it's very obvious that there was some sort of disconnect. We attribute the negative ratings to a combination of the app adding very little value and also to users thinking that downloading Countdown meant they were downloading Go!,though that was not the case.
Regaining traction by partnering
First there was Rio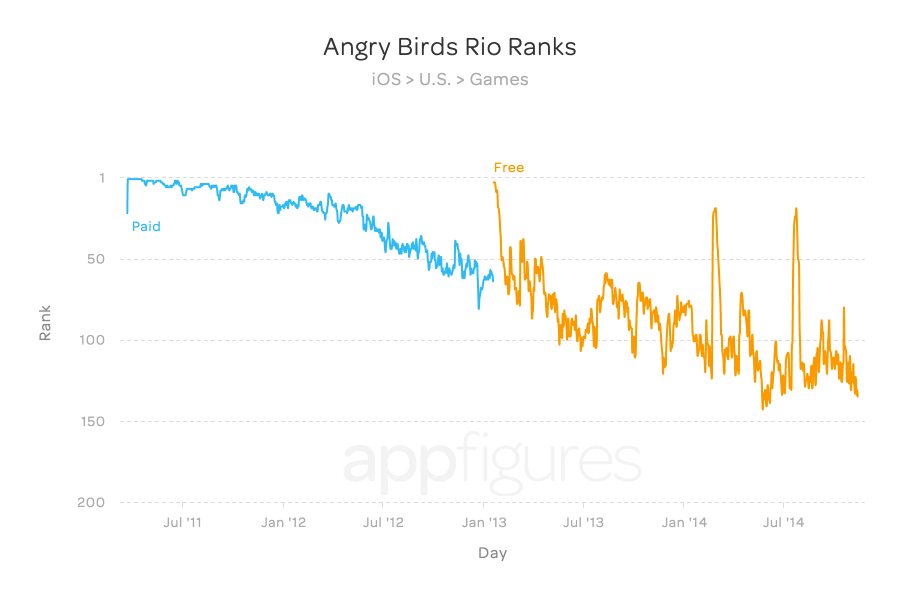 By 2011 the Angry Birds franchise was already in full swing, dominating all major markets and being mentioned on and offline nonstop. It was so well known that to promote 20th Century Fox's new movie Rio, the studio partnered with Rovio to clone the successful title and theme it around the new movie. In January of 2011, Angry Birds Rio went live and climbed the games charts very quickly, a rare occurrence for paid games at that time. Rio eventually turned free once it lost its ranks in 2012. The price drop gave Rio a short-term surge, only to see a sharp decline out of the top 50.
Then came Star Wars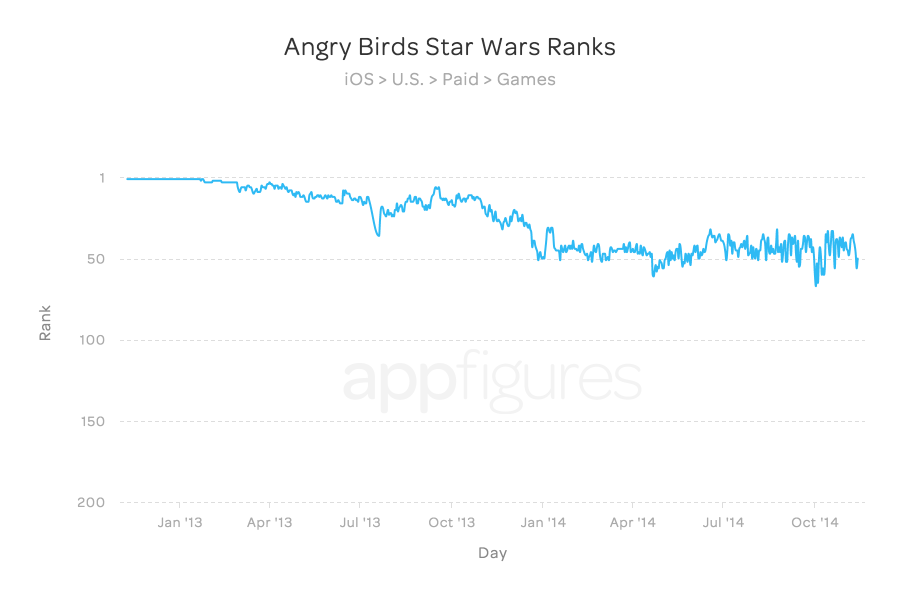 Having built Angry Birds Space, the franchise was now ready for its next partnership. A different game mechanism meant the franchise could clone Space without hurting the original title or Rio. Released in July of 2012, Angry Birds Star Wars also climbed the Games charts quickly, and like the original partnership, the title claimed a spot in the top 50 for more than a year, a commendable period of time.
And then Transformers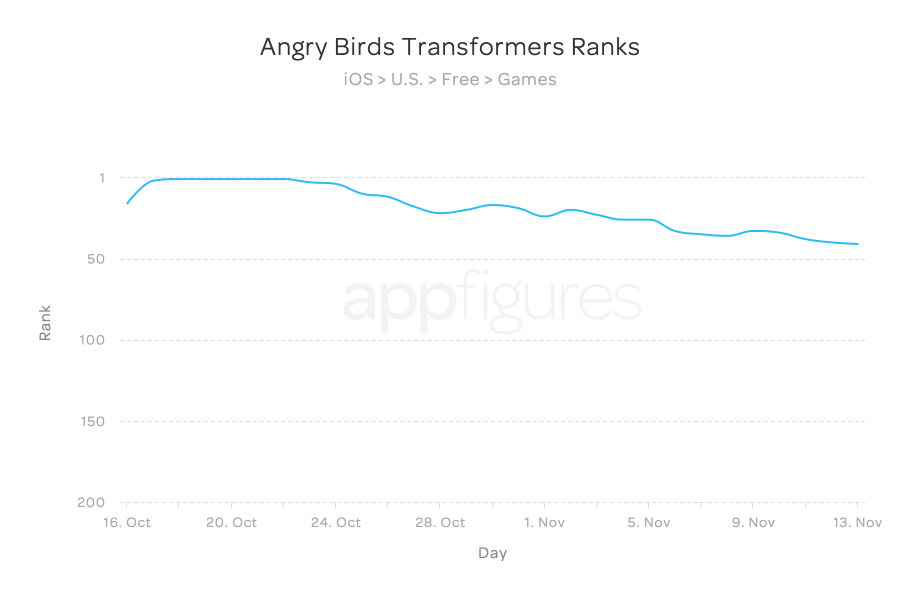 We can see a clear pattern here, new gameplay → new partnership. The third installment, and the last partnership so far, is Angry Birds Transformers, a side-scrolling game released in the summer of 2013. Maybe it's the common gameplay or that unlike with Angry Birds Star Wars, here Rovio introduced both new gameplay and a sponsored theme at the same time, but as you can see from its ranks, Angry Birds Transformers just wasn't well received, opening in the top 10 but dropping below top 50 within the first few days.
With all three partnerships we can see a similar trend: every time a new app was released, the original Angry Birds gained a rank boost.
Takeaways
We believe developers and marketers can learn a great deal from Rovio's success. Here are four takeaways we think will help most developers, regardless of the type of app or game they're building:
Releasing in smaller markets tends to be easier and can create a strong foundation for moving into larger markets.
Users like consistency, so when you make a big change, making it very clear will go a long way to reducing frustration and negative app store reviews/ratings.
Growing your portfolio around a single selling point enables experimenting with new concepts without hurting your main app. It may not work right out of the gate, but don't let that stop you!
Partnerships are a great way to get consistent exposure. While major film studios aren't easy to come by, look for a smaller company or service provider that has a product or a service that can benefit from your app and partner with them.