Apple is getting serious about cleaning up the App Store. The first wave came in the fall of last year and resulted in thousands of "abandoned" apps being removed from the App Store. Apple is at it again, this time targeting apps that mention their price in their name.
We analyzed more than 2.2M free and paid iOS apps, looking for apps that use their price in their name. 
The Gist
More than 50,000 apps and games mention "free" in their name.
About 2% of those aren't even free.
Games are the largest group both in absolute number of apps (a tad over 33,000) and as a percentage of total apps in the category (7.5%).
Spotify, Disney, Zynga, and EA Games are among the popular developers that use "free" in the name of at least one of their apps.
[af-ml-form][/af-ml-form]
We started our analysis by looking for apps that mention their price in their name. Although Apple didn't single out a specific term, running a few queries showed "free" has the most hits and is most likely the term Apple dislikes the most. This analysis focuses on it.
Offending Apps by Category
Let's jump in. Here's a category breakdown of the apps we identified.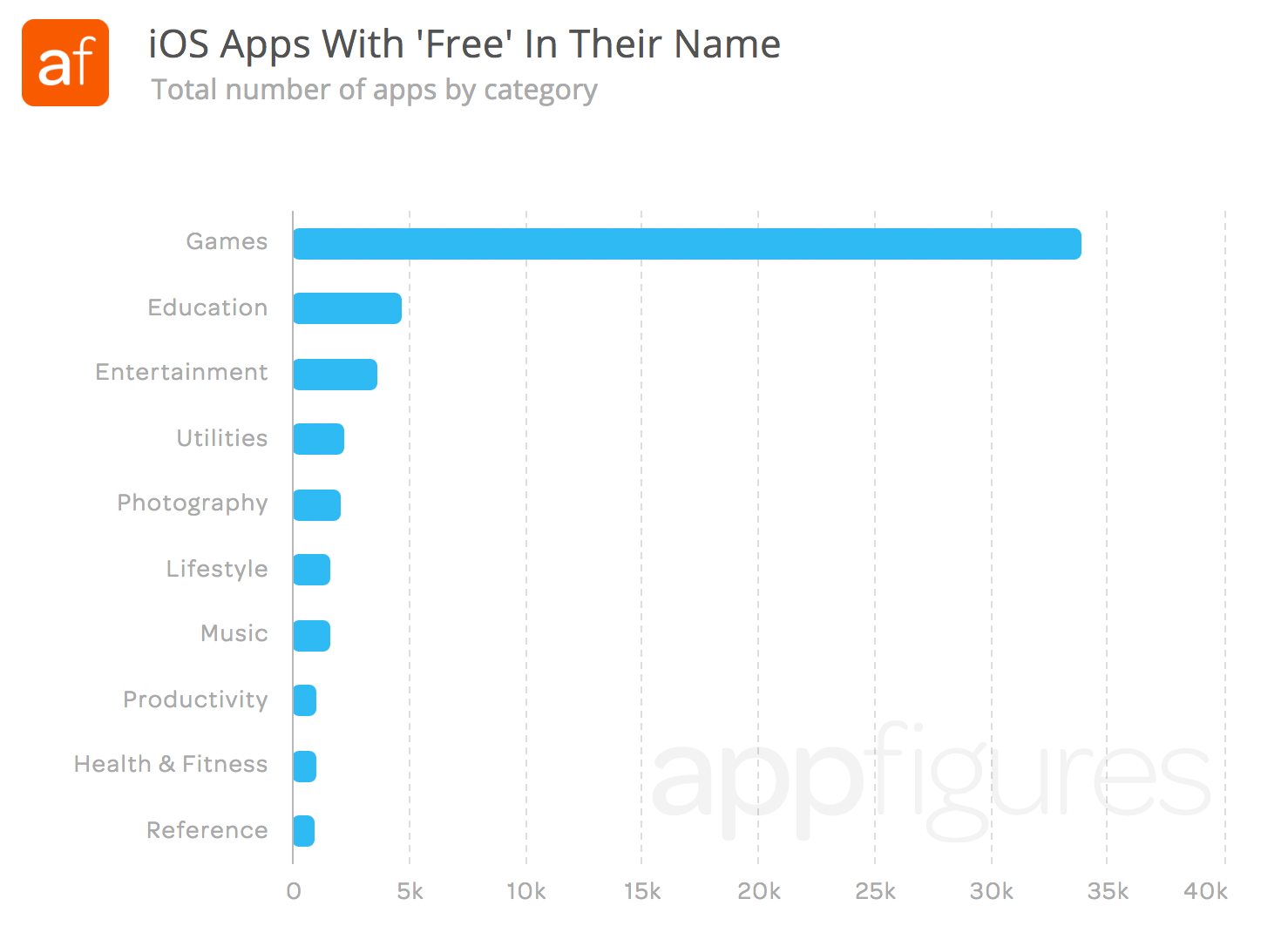 Games, as you probably could have guessed, are the largest offending category by far. More than 30,000 games use the term "free" in their name. While most use it once (kind of ok?), we came across quite a few that use "free" twice and even three times. 
Although it's the largest category, it's not the only category. Education and Entertainment follow games, with Utilities and Photography right behind them.
Not All "Free" Apps Are Actually Free
You'd expect apps that mention the term "free" in their name to actually be free. But they're not always. In our analysis we found that roughly 2% of apps are actually paid, and about 40% that use in-app purchases.
The Impact
Continuing on this thread, let's look at the number of offending apps as a percentage of all apps in their category to gauge the impact this cleanup has.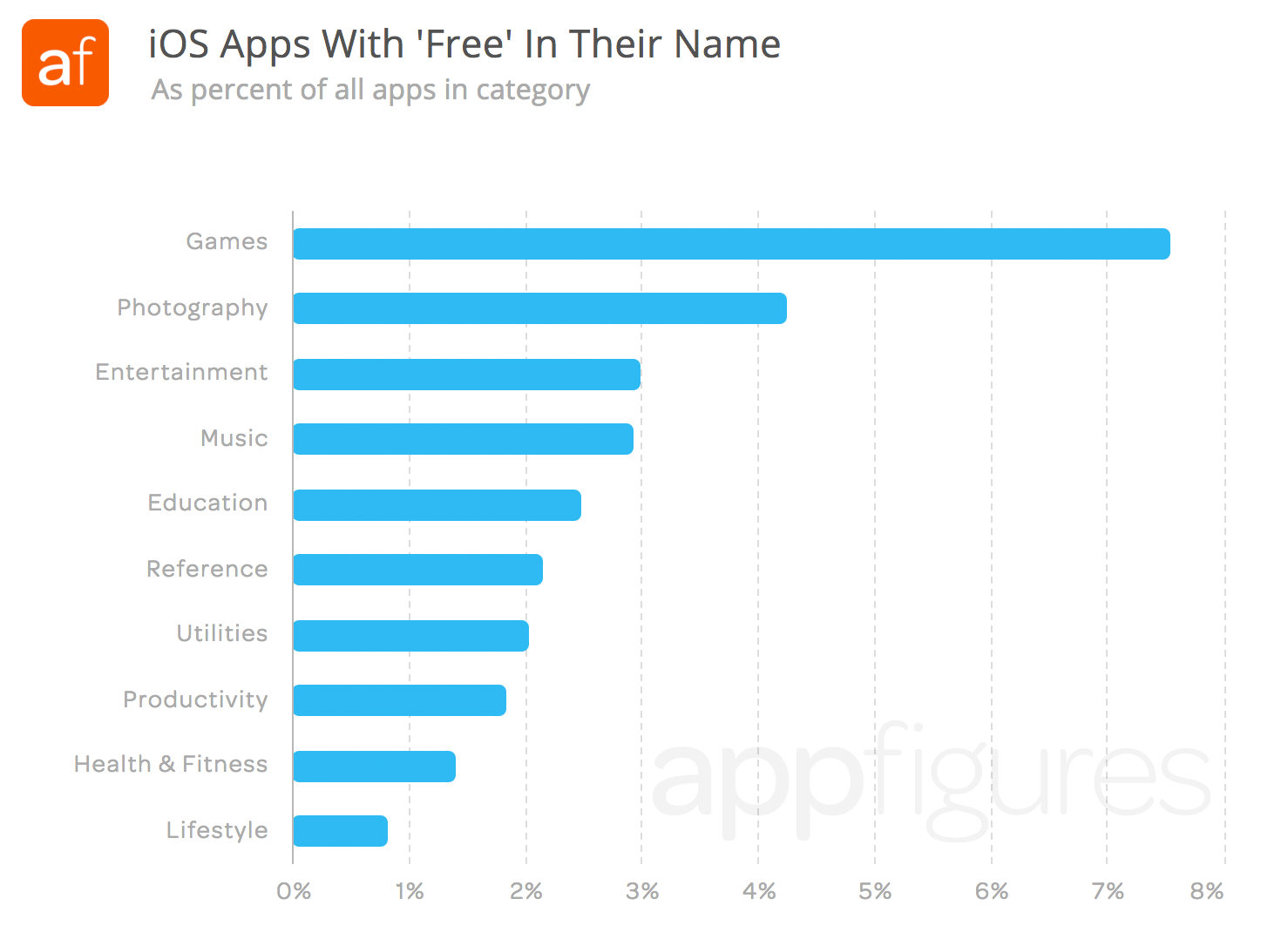 7.5% of all games are currently in violation of this new rule. The Photography and Entertainment categories could be thinned by about 3%, with Music, Education, and Reference standing to lose more than 2% of apps. Lifestyle, the category with the most apps, stands to lose the least — just under 1%. 
Why Is Apple Doing This?
On the App Store, apps rarely show without their price, so adding the price in the name isn't really helping the customer. Instead, developers are primarily using this technique as an optimization for search results. It's obvious why Apple wouldn't be thrilled about that.
In addition to ASO, it's also making the App Store look bad. While many developers use the terms gracefully, in our analysis we came across a few that weren't. Those developers were stuffing their — otherwise simple and customer-friendly — names with two or three instances of the word free making them much harder to read and much less customer friendly.
Who's Doing It?
You're probably thinking this technique is something less popular developers are using to gain an edge. We thought so too, but in our analysis we found apps from several well ranking developers that do this, including: Spotify, Disney, EA Games, Zynga, Big Fish Games.
Not a Sweep. Yet.
Unlike the last clean-up, Apple isn't actively removing apps from the store but rather rejecting new apps and app updates through the review process. 
This means that the App Store still has thousands of apps that are in violation of this new rule. It's not clear whether that will change, and if so how quickly. What is clear is that Apple is serious about cleaning up the App Store, so if you're a developer you should keep to the rules.
---
About the data
These insights came directly out of Explorer, a platform we've built to identify trends and get to know apps, developers, and SDKs. Try it out for yourself →