Update (11/5): As of this morning, Apple has reinstated all of the categories it removed last week. Maybe this was a mistake after all?
---
This morning news broke that Apple removed 11 categories from the Mac App Store. The categories that have been removed are: Education, Entertainment, Finance, Health & Fitness, Lifestyle, Medical, News, Reference, Sports, Travel, Weather.
We found all of the apps that were listed in those categories, and they amount to 6,266 apps, roughly 21% of all apps currently available on the Mac App Store.
Small Categories Got The Axe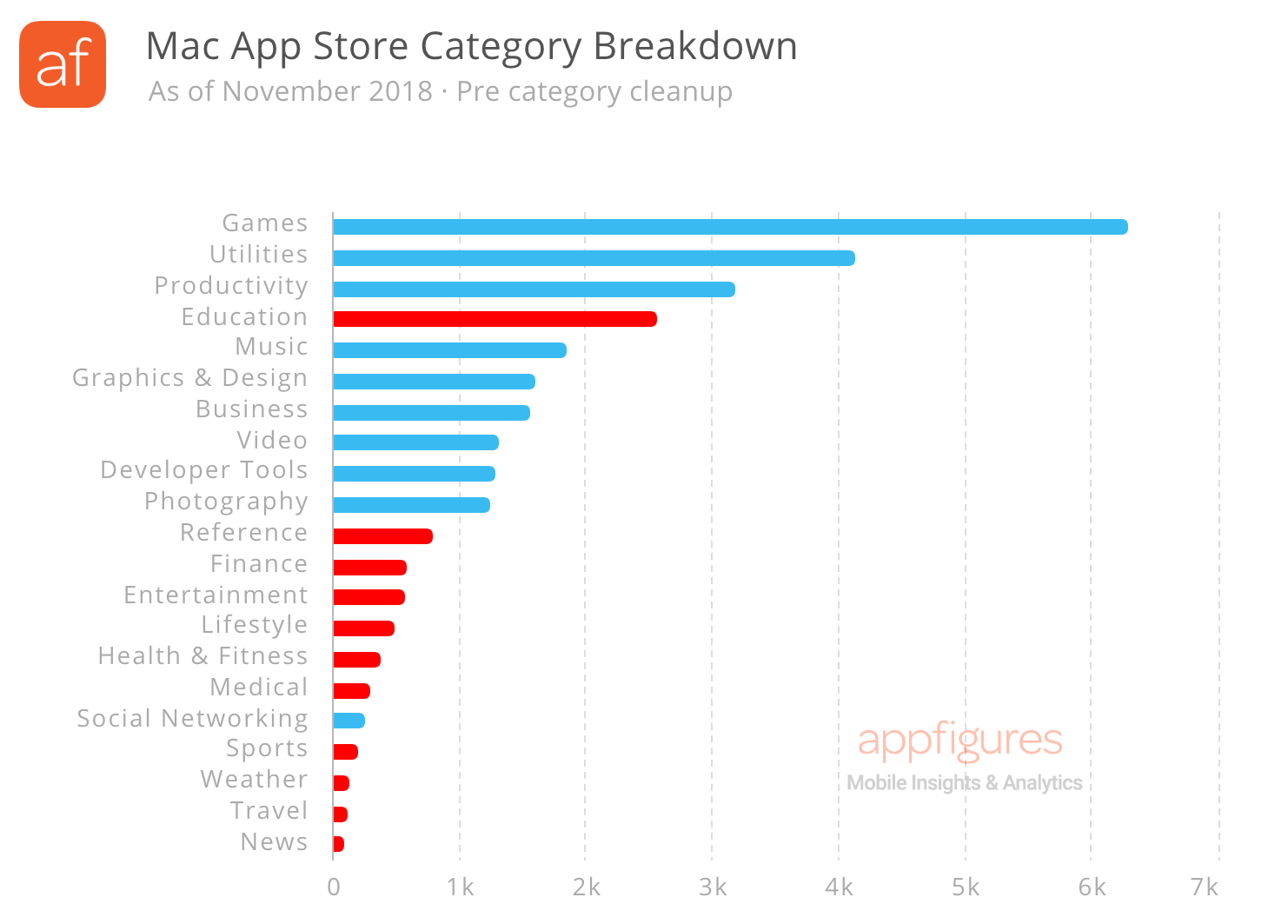 Looking at the distribution of apps by category above, we can easily see that the categories that were removed were pretty small. All but education had less than 1,000 apps. Apple did however make two exceptions with the Education and Social Networking categories.
Social Networking is one of the smallest categories in terms of apps, having just 260 apps, but seems to have made the cut. Most likely because Apple knows its got apps people need.
Education on the other hand, the 4th largest category by size, disappeared. This, coupled with Apple's education focused event earlier in the year could indicate a new education focused store is coming soon.
Regardless of number of apps, having more categories certainly helps users find the apps they need more quickly, and gives app developers a higher chance of being discovered. As it currently stands, removing these categories seems to be the opposite of better.
Apps are still active
What's interesting is that when searching for an app from a category that was removed, the search results include the app and the app's page even shows the name of the removed category, meaning apps are not being removed but are just homeless and undiscoverable for the time being.
Apple hasn't given any guidance to developers for how to handle this situation, but if this isn't a bug we expect such guidance to follow soon. In the interim, if your Mac app is in one of the categories that's been removed you may want to relocate it to one of the existing categories to maintain some discoverability.
About the Data
We collected all of the information for this report using Explorer, our Mobile Market Intelligence platform. Use Explorer to discover and analyze millions of apps across all major app stores. Check it out →