Have you ever looked at your app downloads and wondered how they compare to the market? If so, you're certainly not alone. Being able to put your performance metrics in context can make all the difference when you're investing time and money into your apps.
We've been working hard to make market intelligence accessible to everyone because we believe it's a necessity and not just a nice to have. Today we're happy to show you the first tool — the Mobile Download Index, and it's available for free to all Appfigures members.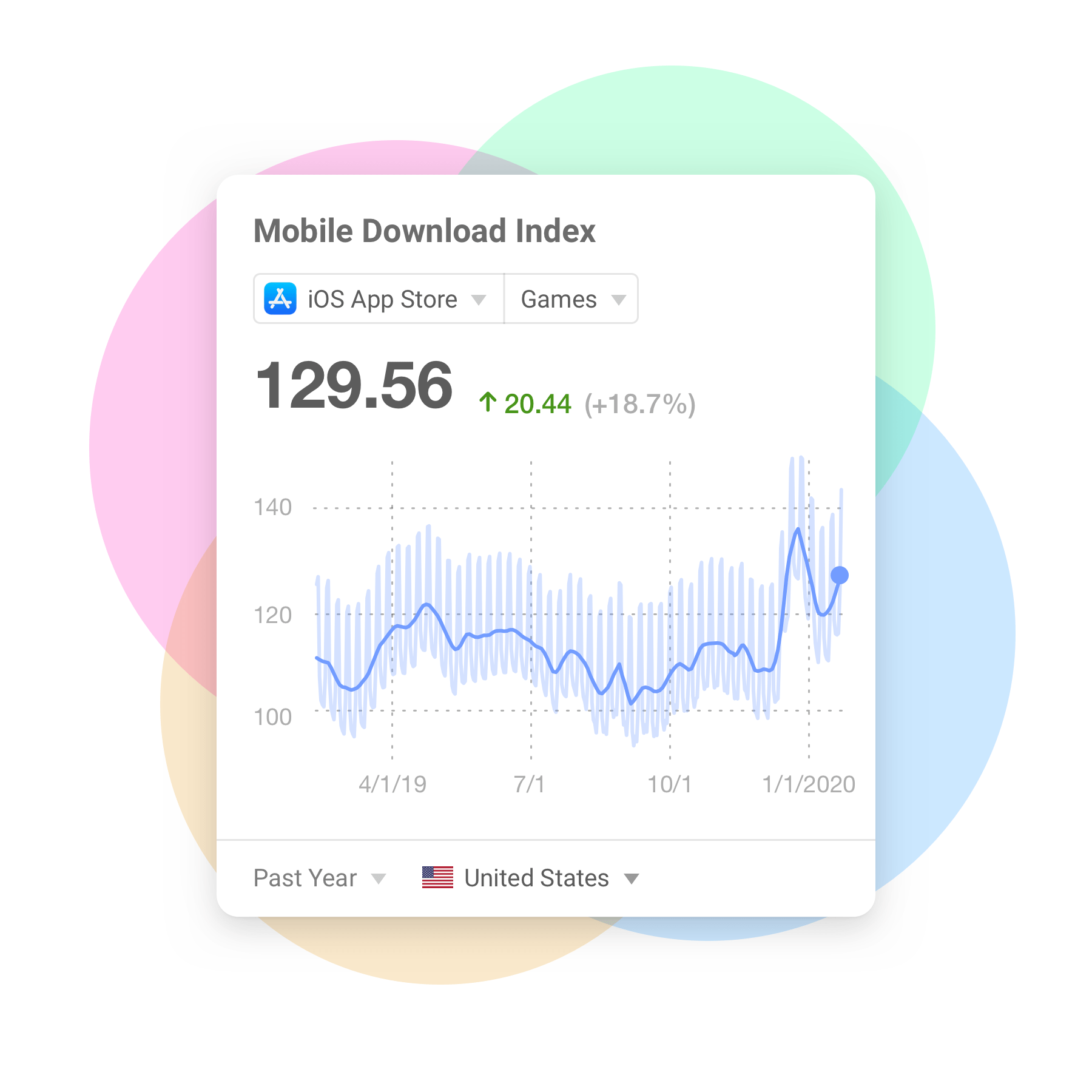 For the first time you can benchmark your downloads against the market. The Mobile Download Index is a new market intelligence tool which uses download estimates and statistics to quickly provide insight into how the volume of downloads in a category is changing, giving you insight into market trends.
What You Can Do with the Mobile Download Index
Using the new index, you can better understand your trends and improve your performance. Here's how the Mobile Download Index can help you:
Compare your downloads to your category. You can finally answer the question "is everyone experiencing this trend, or just me?". With the Mobile Download Index you can quickly tell if the change in downloads you're seeing, whether up or down, is consistent with the market.

When you have a benchmark to compare your performance against you can figure out your next move. If your downloads aren't growing as fast as your category you have room to improve. Optimize the app, promote it, or start spending on ads.

Set realistic expectations. Not knowing what tomorrow might bring makes setting expectations very hard. Sure, you can look at your own trends, but that doesn't tell you how much opportunity for growth there is.

You can easily do that with the index by exploring trends going back two years. When does your category peak? When does it slump? And you can even get more by comparing the differences in peaks from one year to the next to get a better idea of what's coming this year.

If you see steady growth you can continue as-is, or speed things up by improving your ASO or increasing your marketing efforts. If you see things aren't growing as much, you'll have to do those things.

Decide when to launch your next big update. There's only one chance to make a first impression, and you want that first impression to come on a day when you can expect the most downloads. Looking over the index trend for the last year try to spot the point in time where the index is at its highest. There could be multiple peaks for you to choose from, but at the least you should steer clear of the drops.

Evaluate your ad spend. Spending on ads has become much more common for developers and publishers of all sizes with Apple Search Ads and Google's Universal Ad Campaigns, but are those campaigns actually moving the needle?

Getting a positive return from paid ads takes iterations and insights, and without it you might think you're doing well but in reality, the ads aren't even moving the needle and the ups and downs you're seeing are in line with the rest of the category.

By comparing your download trends to the index, you can tweak your ad campaigns until you see the most return on investment.

Plan what to work on next. Getting started on a new app? Before you dive into development take a minute to ensure the app you're working on is going into a category that's growing.

With the Mobile Download Index, it's very easy to tell if a category is attractive simply by looking at today's index value. The index starts at 100, so if today's value is higher the category is growing.
The higher the value is the more it's grown recently. If the index is under 100 it's a sign the category isn't doing all that well, generally speaking. You can use the trend to see if this is a temporary drop, but if it isn't you may want to rethink spending countless hours building and promoting an app in that category.
Get Started, it's Free.
The Mobile Download Index is available as a widget in the Overview report. If you're not tracking with us yet sign up for free →