Last Friday Honey, a service that finds discounts and promo codes for everyday products, launched an app to the App Store and it took it by storm storm, raising to the #1 Free app in the U.S.
Here's what getting to the top of the charts fast looks like: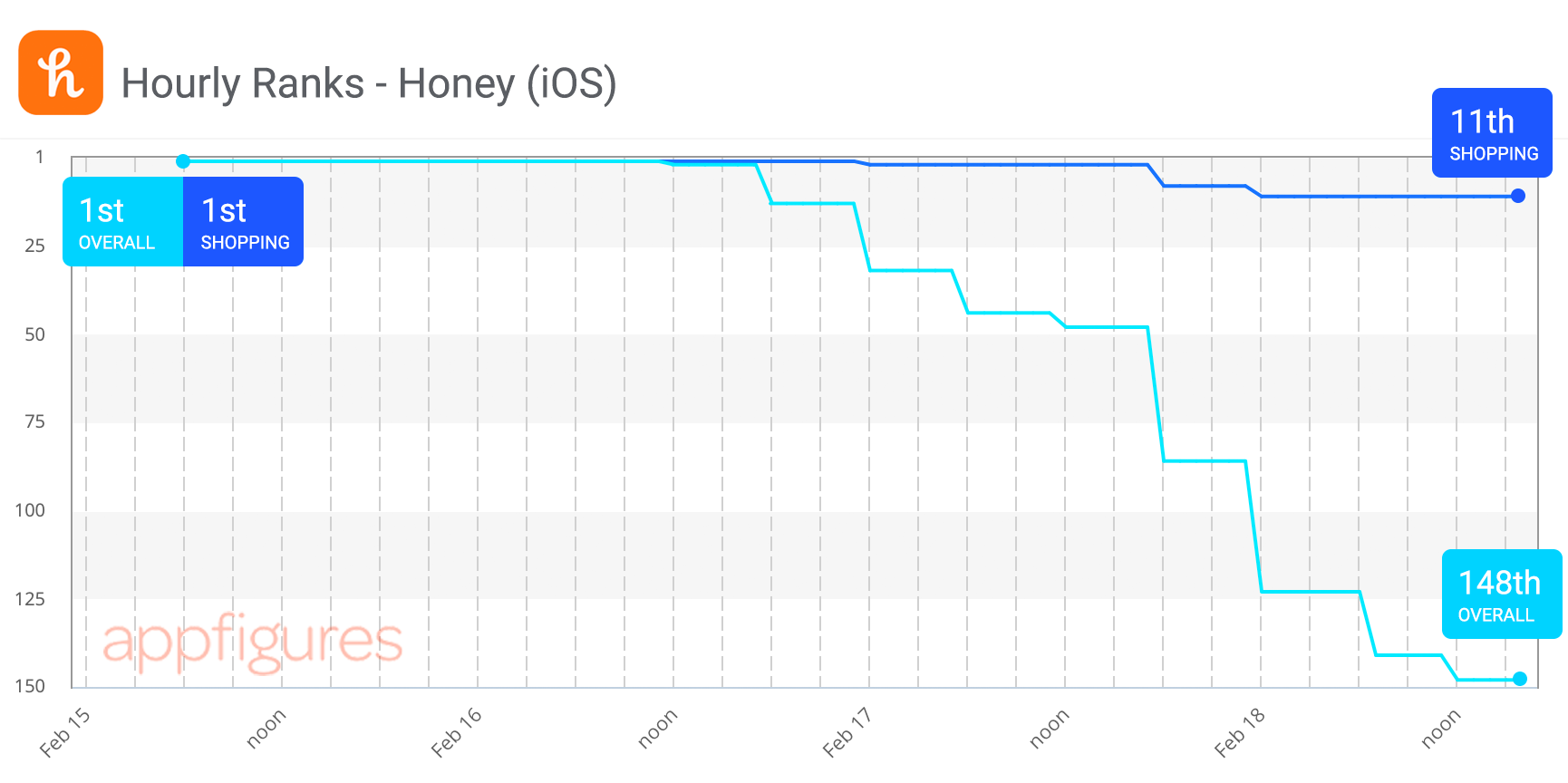 The app climbed so fast it went from not being ranked at all, to taking the #1 spot in under an hour! That's pretty fast, and we've seen a lot of apps climb the charts.
We already know what you're thinking – how many downloads did it take. We estimate that Honey saw roughly 225K downloads on Friday in the U.S.. For comparison, YouTube, which has been consistently ranking in the top 5 free apps in the U.S. saw about 85K downloads on Friday.
However…
Honey didn't stick around for too long. We estimate that the day after its release, the app saw just 45K downloads and as you can see by its ranks, the app started to dip pretty quickly. As of right now, Honey is below the Top 100 mark.
The lesson here is…
Concentrate your traffic on launch day.
There are several ways to climb the charts so quickly. The obvious is paid advertising. However, that's incredibly expensive and can get complicated to set up. The less obvious is organically.
If your service already has an audience elsewhere, like on the web or through a mailing list, let them know about the app at the same time. Honey boasts 10M users on it's site.
If you don't, make sure you coordinate the promotion of the app to happen all at the same time. Whether it's working with journalists, posting to sites like ProductHunt, or even mentioning it on forums like Reddit. While you may not be able to get you to #1 like Honey, concentrating your promotion will certainly give your app a better starting point.
Track your app's performance right from day one. Get started now →