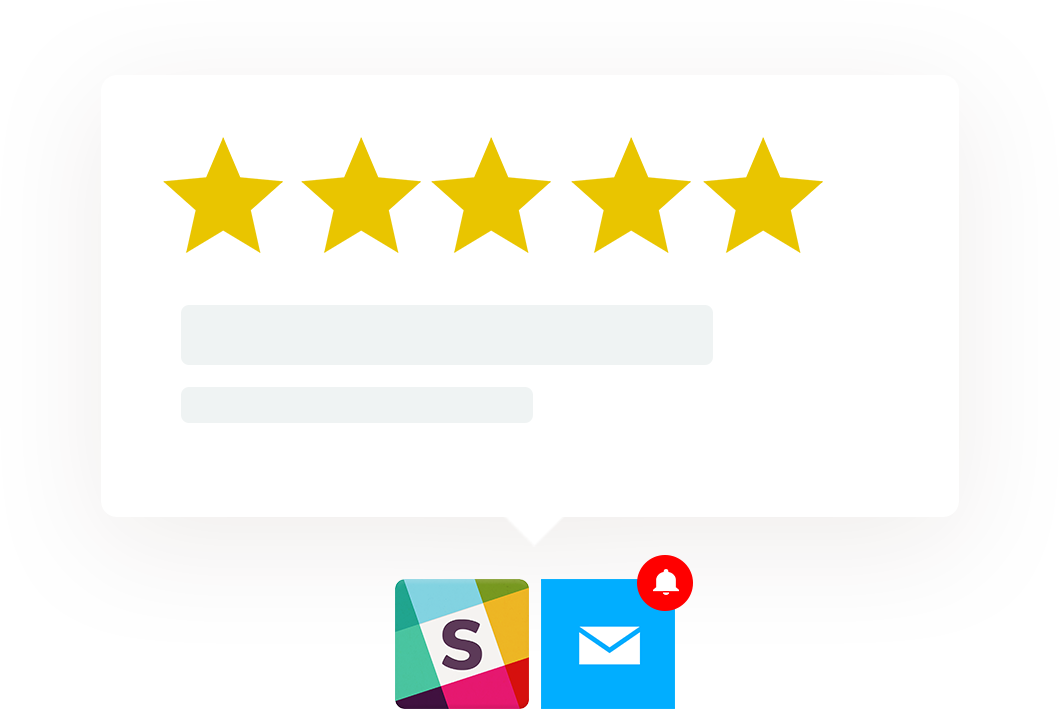 TL;DR Review Alerts notify you when your apps get new reviews from any store or country, with support for powerful filters. Visit the reviews report to get started.
We love app reviews. Sure, they can get a little ridiculous, but they can also be delightful and at times even touching. Regardless they usually provide very valuable feedback to app makers. With so many app stores and countries that user reviews can come from, finding the useful ones might require a little help though.
Our Reviews Report makes it easy to search through all your reviews, and Review Cards are a beautiful way to share them with the world. Today we're unveiling another important convenience: Review Alerts, to make sure you never miss important user feedback.
Integrated with Slack and email
We'll automatically send new reviews to where you and your team are hanging out. We're launching with support for Slack and email and we'll be adding more convenient integrations in the near future.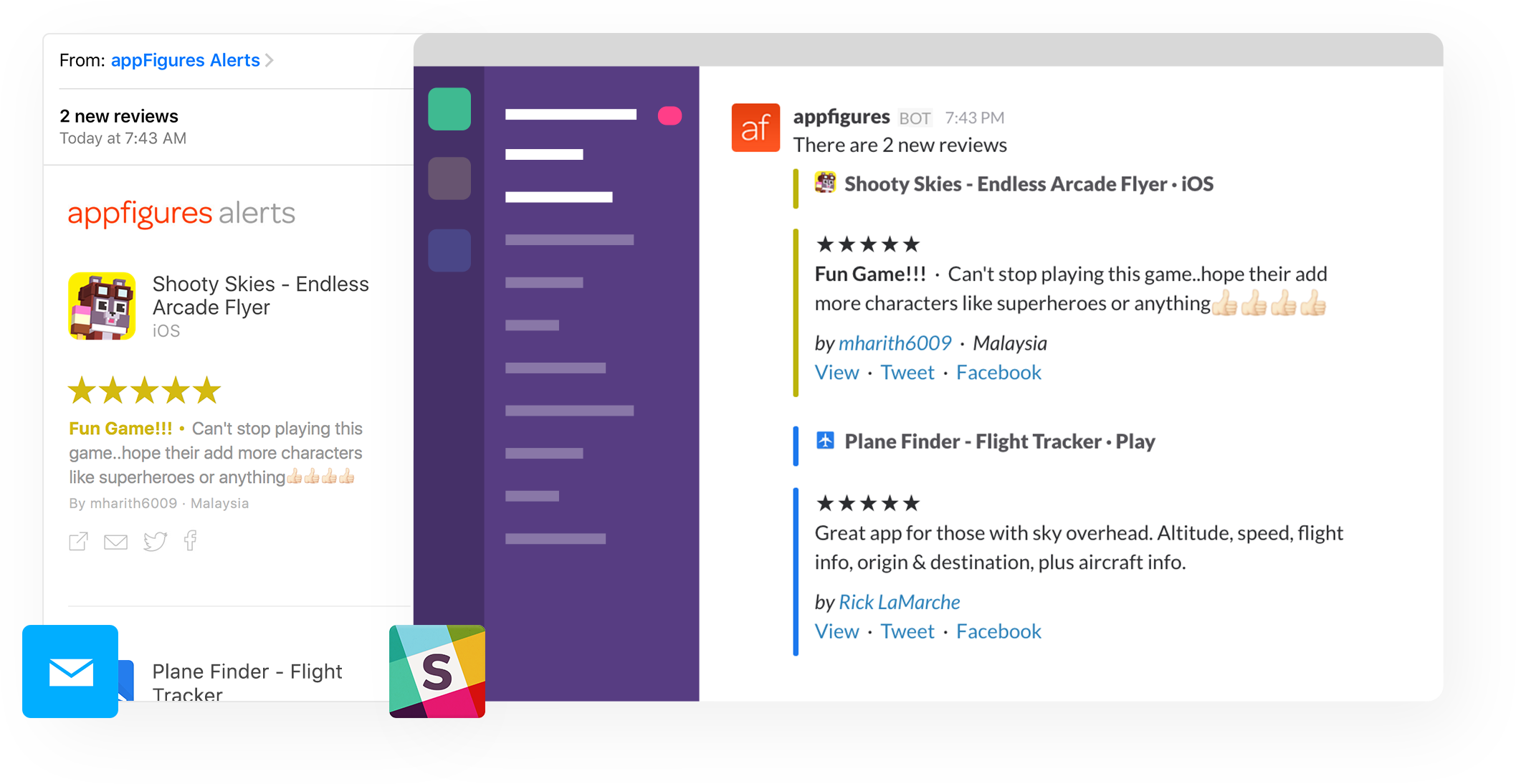 Track multiple apps from every store and country, and in every language
Every app store has its own way of doing things, which can be a real challenge when releasing apps on multiple platforms. As usual we worked hard to make sure those disparities become completely invisible. We'll seamlessly notify you about reviews for multiple apps at once, across every store we track and every country. In other words, we'll let you know about any review from anywhere. For extra convenience we'll also automatically translate reviews to the language of your choice.
Super simple set up
To get started just configure the reviews report as you normally would, then hit the new Create an alert button. You can mix and match several powerful filters to make sure you only see the reviews that matter to you and your team. You can filter by keyword, star rating, and country.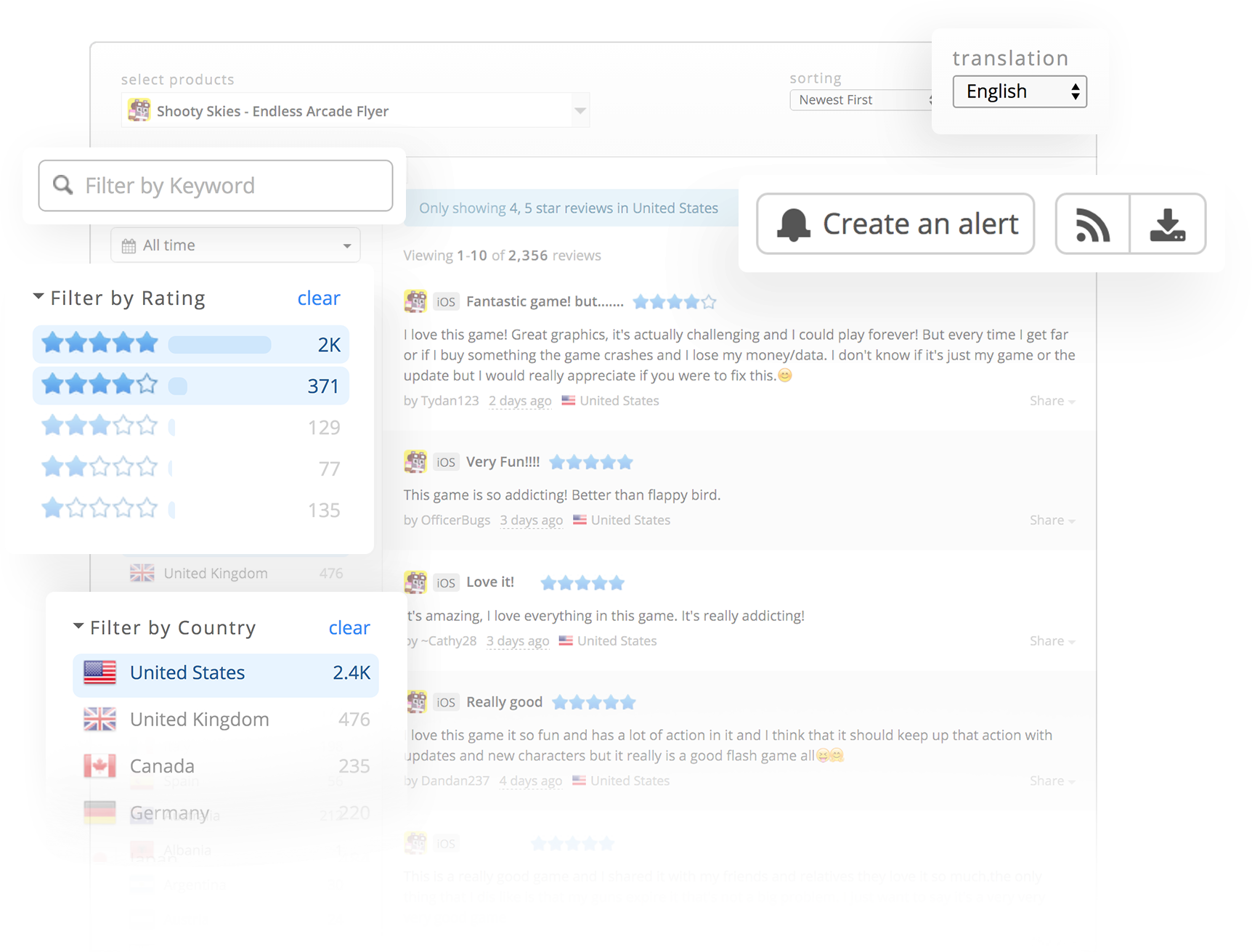 Filters that save you time
Filters let you customize what kind of reviews you'd like to be alerted about. Below are some filter combinations to give you a taste of what's possible:
Just 4 and 5 star reviews – Get only positive reviews. Useful for marketing. Even better with Review Cards.
Reviews mentioning "Crash" or "Bug" – Reviews your developers may be interested in.
1 and 2 star reviews – Reviews your support team may want to take a look at.
Negative reviews mentioning "John Stamos" – If you decided to try something new for April Fool's and wanted to see if it backfired.
What interesting/crazy/useful alerts have you come up with? Tweet them @appfigures so we can share them with the world.
Even more coming up
We're very excited about the possibilities that Review Alerts open up and we have a lot more types of alerts planned. Soon you'll be able to receive notifications whenever anything notable happens with any of the apps you track.
We're also working to integrate Review Alerts with more third-party services so we can send them exactly where you need them to be. We'd love to know which ones would be most helpful to you and your team. As always you can tweet at us or send a good old email.