Last update: Dec. 23rd 8:00pm EST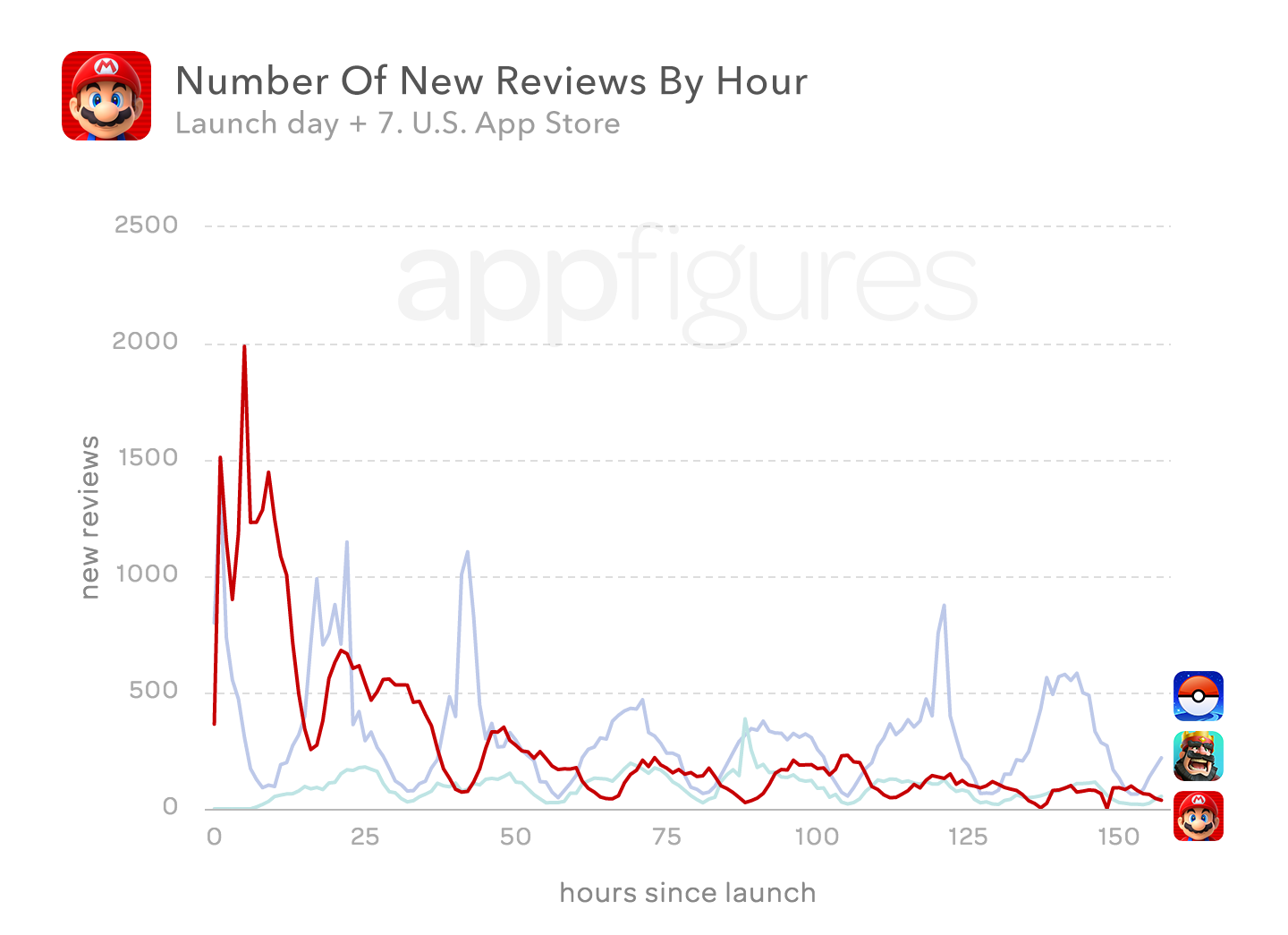 It feels like 1985 again. As Nintendo hopes to satisfy nostalgic generations (and pull in a whole new set of players) by releasing their first mobile game, Super Mario Run, gamers have been eagerly awaiting the release of what's sure to be the game of the season.
Filled with classic Mario features and an unprecedented amount of hype, we're expecting a massive consumer response. Over the next week we'll be following Super Mario Run's debut and benchmarking its engagement against some of the most successful game releases of 2016: Clash Royale and Pokémon Go.
How's Mario Doing So Far?
The chart above plots the number of new reviews for each app by hour. As the app just went live there's none yet, but with ~20 million people signed up to be notified of its release (as of October), that'll change very quickly. We predict the first few hours to break the record set by Pokémon Go in August, and maybe even crash the App Store.
12/16 1:30pm – Nearly 24 hours have passed since the game was rolled out and it looks like Apple is heavily delaying releasing reviews written by users. Most likely because of very aggressive caching. We were able to grab the first 6 minutes worth of reviews and while that's not at all a meaningful way to predict, that number is 500% larger than Pokemon Go's number for the same time period. And these aren't estimates but rather actual numbers.
12/17 10:30am – After nearly 48 hours Apple seems to finally be letting some reviews through into the App Store, and we got our hands on them. Check out the charts. So far the game is getting a decent number of reviews in the US, but not that much more than Pokemon Go. Considering the controversial price and the need to be online to play we expected much more chatter. It's too early to tell if the numbers reflect quick churn or not, but that's something we'll be watching closely.
12/17 9:30pm – We're starting to get a more complete picture of the first 24 hours and so far Super Mario Run is on the same track as Pokémon Go. We expected much higher results, but since Pokémon Go was a completely free game during launch and had the AR twist it's probably gotten more engagement and thus reviews.
12/19 10:30am – As new data is coming in it seems that Mario is holding on to a lead when compared to both Pokémon Go and Clash Royale. However, that lead isn't as large as we thought.
12/20 11:00am – Reviews for Mario Run are starting to slow down. In fact, with a total of 27,721 reviews in the U.S., it's now running behind Pokémon Go which had a bit over 30,000 at this point in the launch.
12/21 5:30pm – Reviews have continued to slow down, indicating engagement is dropping off rapidly. Many users have been complaining about the game's cost, and that seems to have plagued the launch of this otherwise fun game. Stay tuned for our conclusion on Friday!
12/23 12:00pm – We've reached the end of our live coverage, and there isn't much to say that hasn't been said before. With so much buzz leading up to the launch, expectations were at an all-time high, but were met with harsh criticism over pricing. Was this a misstep by Nintendo, or is all we're hearing noise? It's hard to tell without knowing Nintendo's goals for this launch. We can't wait for Super Mario Run to launch on Android, where Nintendo will have a chance to rethink their strategy.
What To Expect
To get an idea of what's to come, we've charted the total number of new reviews Pokémon Go and Clash Royale got in their first week, and will be adding Super Mario Run's data as it becomes available.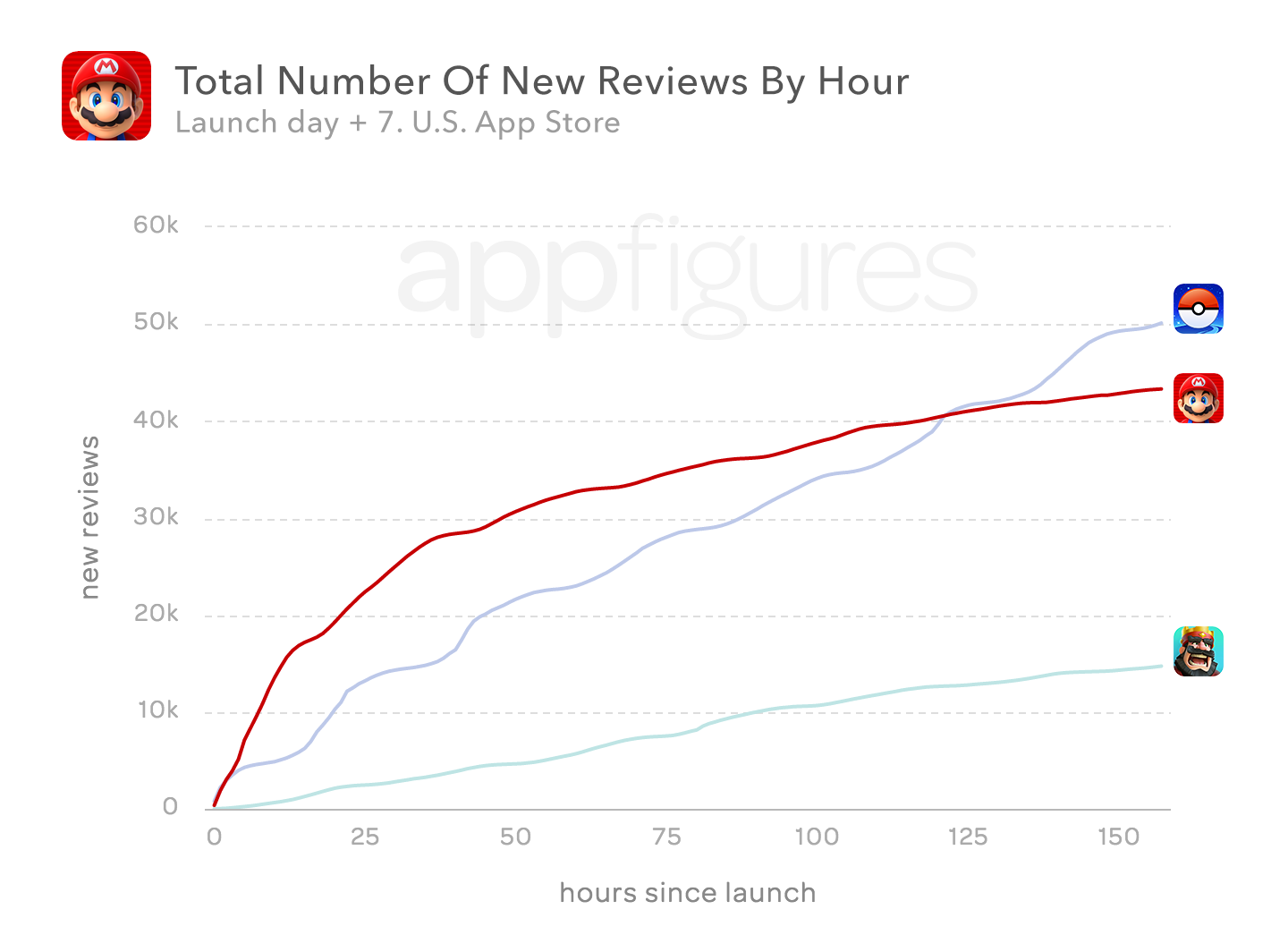 Our Conclusion
It's been a whole week since we started tracking Super Mario Run's launch. The expectations were exceptionally high given the amount of press the game has been getting from Apple over the last few months. Very quickly however, players started complaining about the price. Those complaints continued, and then the press caught on, sending Nintendo's stock down ~14%.
Overall, Nintendo's choice of monetization strategy was somewhat of a risk. Going with a free-to-download demo as opposed to the more common free-to-play freemium model. Based on the last week of data and news it seems this was a mistake, but with the holiday season upon us I'd rather wait a few more weeks until making that claim.
About The Data
Data in this post includes reviews from the App Store for all three apps. Our collection engine retrieves every review that's available, on an hourly basis.
Why reviews?
We like to use reviews to benchmark app launches because they provide a strong indication of a combo metric that includes both downloads and engagement.
Track every review for all of your apps with appFigures. Start your free trial