We've been talking a lot about the new changes in iOS 8 and what they mean for developers and end users. In this post we continue the trend and look at custom keyboards. Now that custom keyboards are available for iPhone and iPad users, some are already swearing by them and companies dedicated to creating those keyboards are flourishing.
So far we've seen keyboards of all kinds pop up. From the famous Swype, to ones that change the background color to reduce battery usage, keyboards have been ranking very well. Instead of looking at performance, we wanted to get a feel for how users are receiving them, so we decided to dive into app store reviews. Since we're going to be analyzing text, we collected reviews for all top ranking keyboard apps from english speaking countries (the United States, Canada, Great Britain, and Australia).
First, we aggregated all of those reviews and pulled the most popular keywords (those that are repeated the most times). We cleaned out short terms and stop words and put it all into a word cloud.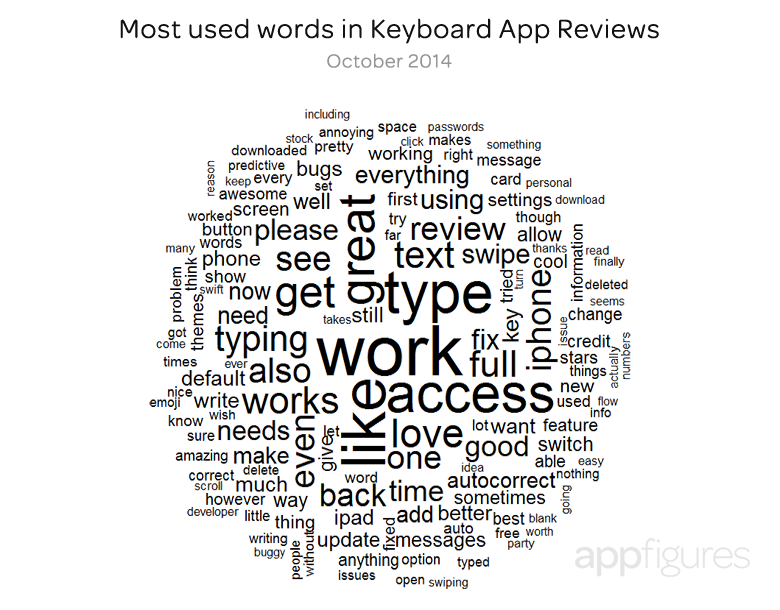 Word clouds aren't as mainstream as they used to be, but for understanding reviews at a glance they are ideal. Looking at this cloud, we can easily see that users are really loving their custom keyboards. Words like "love", "like", and "great" are repeated very often.
Looking closer we start to see suggestions and feedback as well with words like "fix", "needs", and "feature". Lets take a look at each specific app and see how those keywords look. Sorted by their ranks, here are the top keyboard apps and the words that are most used in their reviews:
It seems that users love this new addition and are happy to provide feedback and even suggestions in their reviews. That's free QA for developers. Hopefully those developers are using our intelligent app store reviews engine to keep an eye on these terms and fix those bugs.