Since being unveiled earlier this summer, iOS 8 and the changes it will bring to the App Store have been eagerly anticipated, but what do they mean for iOS developers, and how will they affect discovery? In this series, we ask prominent members of the iOS community to share their insights on what to expect and how to stay ahead of the curve, as we explore the Road to iOS 8.
In case you missed it, Part I: App Bundles.
---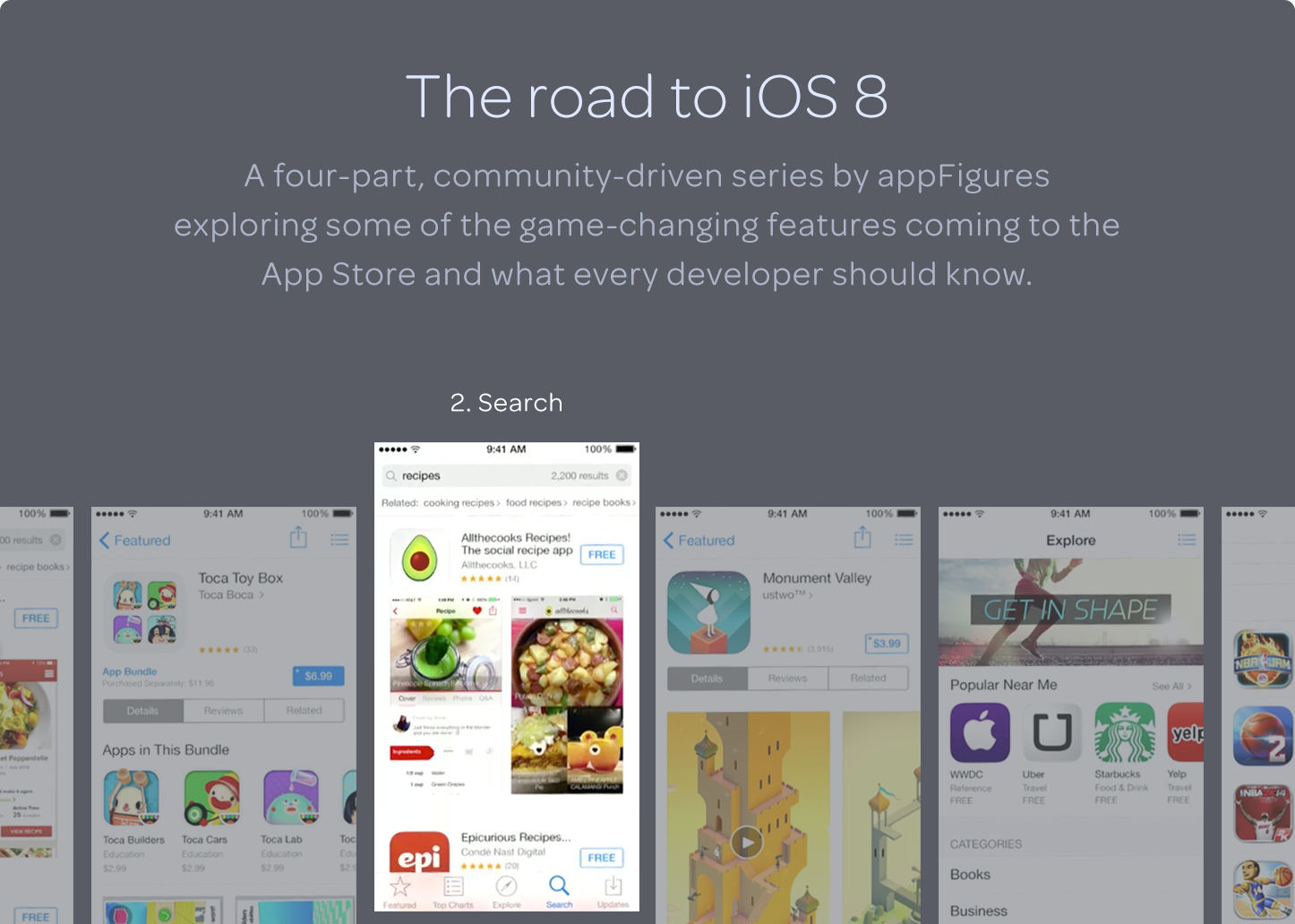 With several discovery improvements coming to the App Store this fall, including the return of vertical scrolling, live app previews, Safari's built-in app search, and store trends, Apple has thoroughly stirred the pot. The implications these changes will have on how your apps are found and downloaded are anything but certain, but one thing's for sure–the more you know, the better prepared you'll be. To shed some light on what's coming, we've called on Ouriel Ohayon, co-founder of Appsfire and a well-known industry expert. He was kind enough to share his insights on app search and discovery.
Ouriel, can you review the big changes the App Store will see in in iOS 8?
The App Store is going to enjoy some nice cosmetic changes but the core is actually not going to change much. To start, Apple is going to remove one of its less useful features, Near Me, which unsuccessfully replaced the inadequate Genius feature. Instead they'll introduce a much more interesting section named Explore, that lets users dive deep into curated lists of apps which are grouped logically by theme.

Apple is incrementally improving search by enabling vertical scrolling in lieu of the painful-to-the-thumb horizontal scrolling and showing two screenshots at once instead of just one per result.

Video previews are another interesting addition, but for now I am taking the position of "let's wait and see". Apple is playing catch up with Google Play with videos that are restricted in their duration and what content they can contain.

But the core remains the same; editorial features and top charts will continue to be the main driver of discovery and point of entrance to the App Store. Not a word on whether the ranking algorithm will remain the same (ie: based on download volume and velocity) making it very easy to game.

More importantly, instead of moving the App Store towards a personal, more tailored experience, Apple is keeping the experience the same for everyone. In my opinion that's the most important change the App store has to go through to make everyone happy.

Finally, one of the most important app discovery improvements is not in the App Store, but in iTunes Connect. Keeping developers informed about their app usage analytics, and where their downloads and engaged users are coming from is a massive step forward. This is the kind of thing that will make developers aware that discovery is the result of marketing efforts that need be constantly adjusted and improved based on the data. No more blind spots (well, except that Apple conveniently won't provide analytics related to in-Store browsing and search).
Safari in iOS 8 has a built in search for apps. How do you think that will help discovery?
Apple is introducing app search in Safari and also in Spotlight. Apple does not have a great track record of providing great search experiences, especially in the App Store. I am sure it will contribute to more discovery, but I doubt it will be significant. That's mainly because most people who search in Spotlight and Safari are probably not doing so with the intention of finding a new app.
How do you think Apple's return to vertical scrolling will affect apps that aren't in the top 5 for their keyword?
We already know it, most mobile users have little patience and a short attention span. So an additional tap is a chance to zap to something else. I think the vertical scrolling experience is much better, but I don't think it will dramatically improve the discovery of apps beyond the top five or ten spots. What I would love to see (but Apple isn't introducing) is the inclusion of smart filters based on price, taste, app types, etc.
How do you see app bundles affecting discovery (ranks, reviews/ratings, etc), and do you see one app being very successful resulting in more bundle downloads due to a higher rank?
App bundles are a great idea. Apple played a nice card here, but bundles can only include paid apps. It is indeed a great way to improve the discovery and sales of paid apps. I wish they extended it to free apps too, but that doesn't seem to be a part of Apple's agenda.
Do you think "app previews" will change the way consumers evaluate apps? And, should developers even bother?
Certainly so. But it mostly depends on how much freedom developers will have to produce high quality videos. My understanding is that app previews should not be a commercial but more of a short preview, leaving very little room for voice overs, elegant transition effects, feature summaries, etc.

Ultimately we'll have to see how developers embrace that feature too. I don't think anyone will really know how videos affect their sales conversion until Apple provides analytics on video views.
Thanks to Ouriel for sharing his insights to help us prepare for iOS 8. If you haven't already, be sure to check out our previous installment on App Bundles, and come back next week for the next post in the series where we'll be covering App Previews.
---

Ouriel Ohayon is co-founder of Appsfire.com, a global mobile native ad and marketing solution provider for app developers, as well as Isai.fr (early stage fund). Ouriel is an investor in eBuzzing, Outbrain, Eyeview and Ginger Software, and founded the French version of TechCrunch.