Visualizing data is as much personal taste as it is science. Since we released our API back in 2010 several members have created and published mobile apps that consume the API and visualize reports to their heart's content. What's great is that all of those apps are available on the App Store so there's a good variety for everyone to choose from.
This month two new apps join the list, which now includes seven 3rd party iPhone apps! We took both apps for a spin and here's what we think:
Sales – The appFigures Companion
Developer: Will Townsend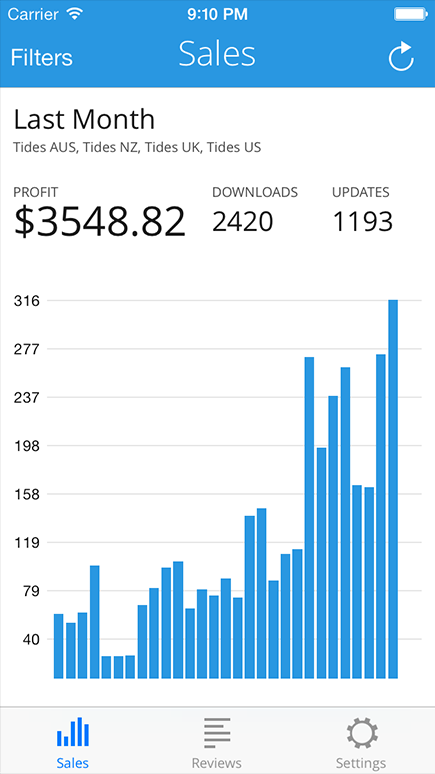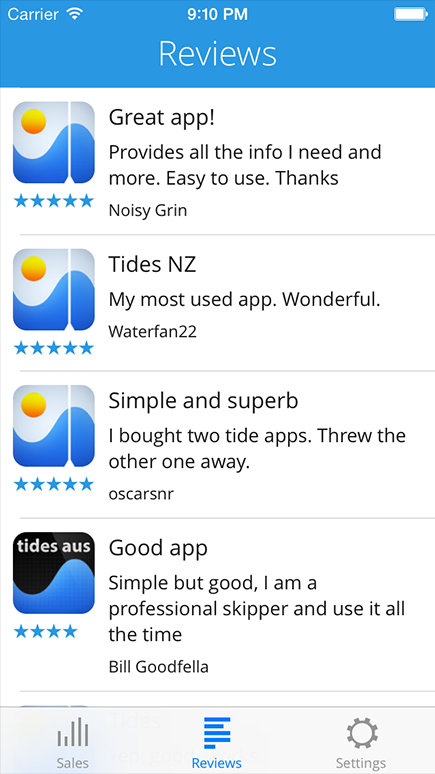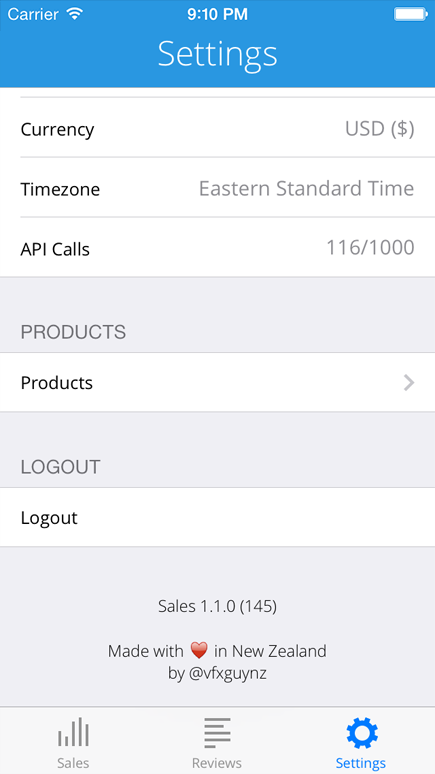 Sales describes itself as a mobile companion to the appFigures site. The app has a very simple and intuitive design built for iOS7. Sales give you an at-a-glance view of your most important information, your profits and reviews.
Features
Logging into Sales is easy and secure thanks to the OAuth integration. With OAuth the app never sees your appFigures password.
Once logged in, the app opens to an almost full-screen bar graph of sales with totals at the top. Tapping and holding a single bar shows data for the chosen day. By default all apps are included, but that can be changed in the filters section along with the date range.
If you have IAPs you'll notice that they're not available in the app filter list; that's because Sales merges the downloads and profits of all IAPs together (just like we do in email reports). We think this is a nice touch for a true overview.
Sales is currently the only app on the App Store that takes advantage of the new reviews route of our API and does so with a simple list of your most recent. Each review shows the date, rating, and the author. Unlike the sales section, however, there's no way to filter reviews in the current version. Hopefully that will change in the future.
Overall
Sales is a great way to get a quick overview of your sales and reviews. Will did a great job keeping things simple while still displaying enough data.
On the app's site, Will mentions more features are currently in the making. You can see what he's up to on the app's public Trello board.
Find out more on getsalesapp.com or get it for $1.99 on the App Store.
The Stat App
Developer: Paddy Donnelly and Alain Hufkens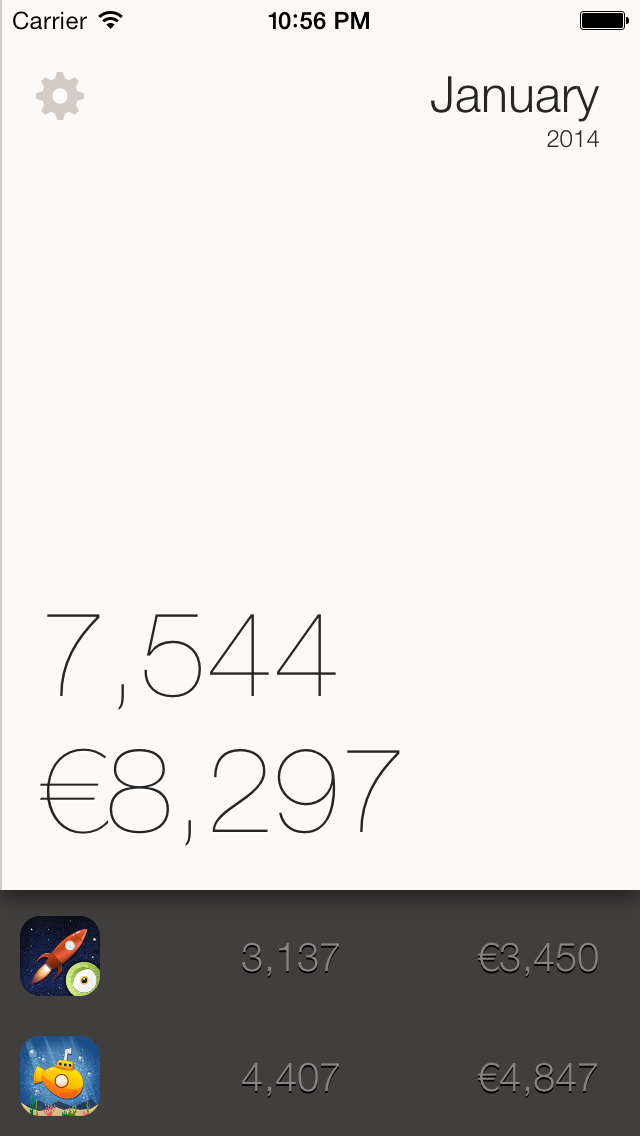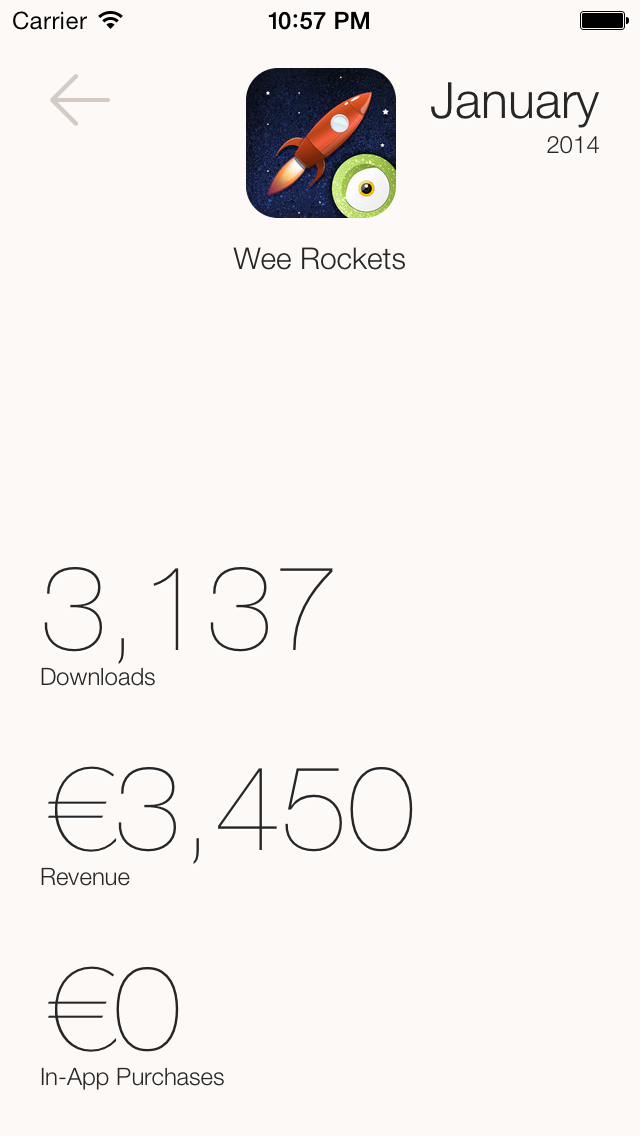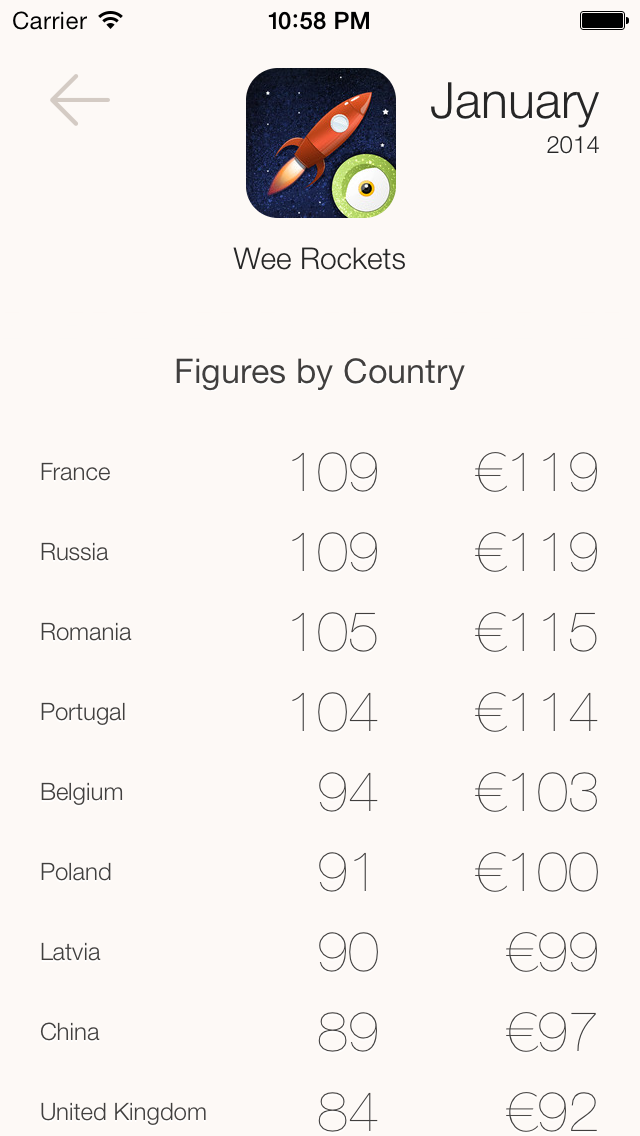 The Stat App takes a different spin on simplicity. The app is very clean and focuses strictly on profit with a beautifully designed UI that's really easy and fun to look at.
Features
Logging into The Stat App, just like logging into Sales, is very smooth and secure thanks to the OAuth integration.
From the beginning it's very obvious what the app is all about–profit and downloads. The main screen includes those two numbers in really large font. But don't let that fool you, there's much more. Swipe to the left or right to change the date, or down to select a different granularity.
Just under the main screen you'll find a list of profit and downloads broken down by app. Tap an app and you'll be taken to a single-app view with totals. Swipe up to see a breakdown of both profit and downloads by country.
You'll notice that like Sales, The Stat App also combines IAPs profit and downloads into the app they belong to. The Stat App goes a step further and shows a total for IAPs as well.
Overall
Paddy and Alain did a great job with the design and interactions of the app. The way gestures are implemented makes operating the app with one hand a breeze. Unlike other 3rd party appFigures apps, The Stat App uses freemium pricing, which we think is clever.
Find out more on thestatapp.com or get it for free on the App Store.
---
Important: Both apps were developed by 3rd parties that aren't directly affiliated with appFigures. Please visit the developers via their respective sites directly for questions, comments, or feature suggestions.