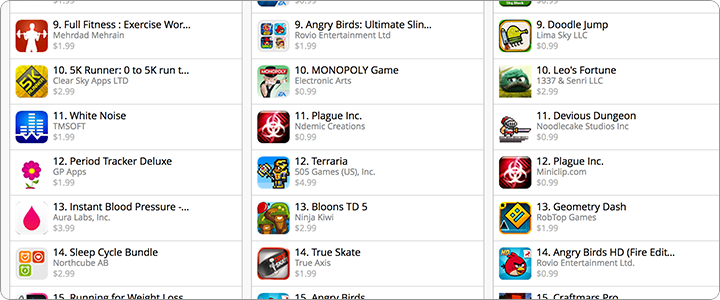 iOS 8 was released this week and with it lots of new features for end-users and developers alike. One important feature for developers is app bundles. Joe Cieplinski covered App Bundles in our Road to iOS8 series a few weeks ago and today we're happy to say that last night we rolled out complete support for app bundles throughout the platform.
We now track sales and downloads, ranks, reviews, and ratings for all of your app bundles. We'll also let you know when any of your app bundles are featured anywhere in the world.
App bundles are a great way for developers to monetize their apps and we're planning to introduce even more tools to understand app bundles in the future.
To get you started tracking quickly we put together a short list of most asked questions about app bundles:
How will app bundles show up in my reports?
App bundles will show as a new item in your product list with a special icon. Don't worry, we're also working to get the real icon in there. Your app bundles will also show as separate products in your email reports.

Update: We now have real bundle icons, and they're beautiful! ( )
How are bundle completions tracked?
Apple completes bundles by refunding the purchase of the app and then charging for the full bundle. To the end-user this shows as a single transaction but developers get more details.

We currently show those completions as a standard return for the app but under the hood we track it as a completion and do plan to show it as a separate data set in the near future.
Will bundle downloads increase the total app downloads?
No. App bundles are tracked as separate products on our end.
Do I have to pay extra to track bundles?
Yes. An app bundle costs the same price as an additional app.
---
If you have a question we didn't answer feel free to get in touch on live chat or by email.