Update 10/29: Apple has acknowledged this as an error and are in the process of restoring ratings to all affected apps.
Many developers, large and small, woke up last week to a very sad reality, where their apps were stripped of thousands of app ratings. The sweep hit apps from household brands like Google, Microsoft, Nike, and Philips, as well as popular games from studios that include SEGA, Disney, Ketchapp, and many others.
The timing is interesting. If you recall, just about a year ago Apple did something similar which they later called an "error". This however feels a little different.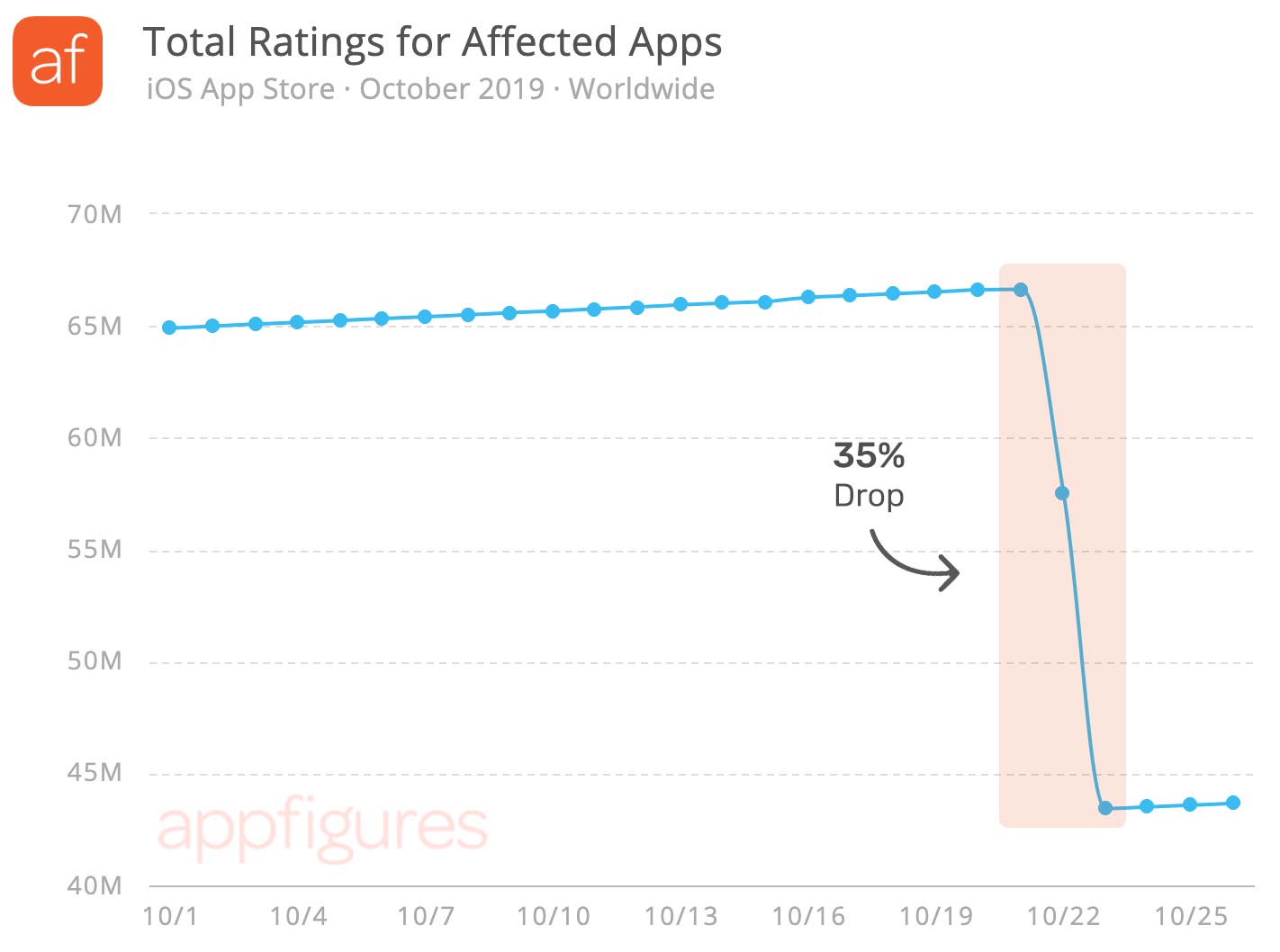 Everyone Got Hit
More than 300 apps from more than 200 developers, both popular and indie, were affected by this sweep, which erased over 22 million reviews between October 23rd and 24th. On average, the apps saw a 50% decrease in ratings in affected countries. Some apps however got hit harder than others. Hulu lost 95% of its ratings in the US. Chase and Dropbox lost about 85% of their ratings in the US.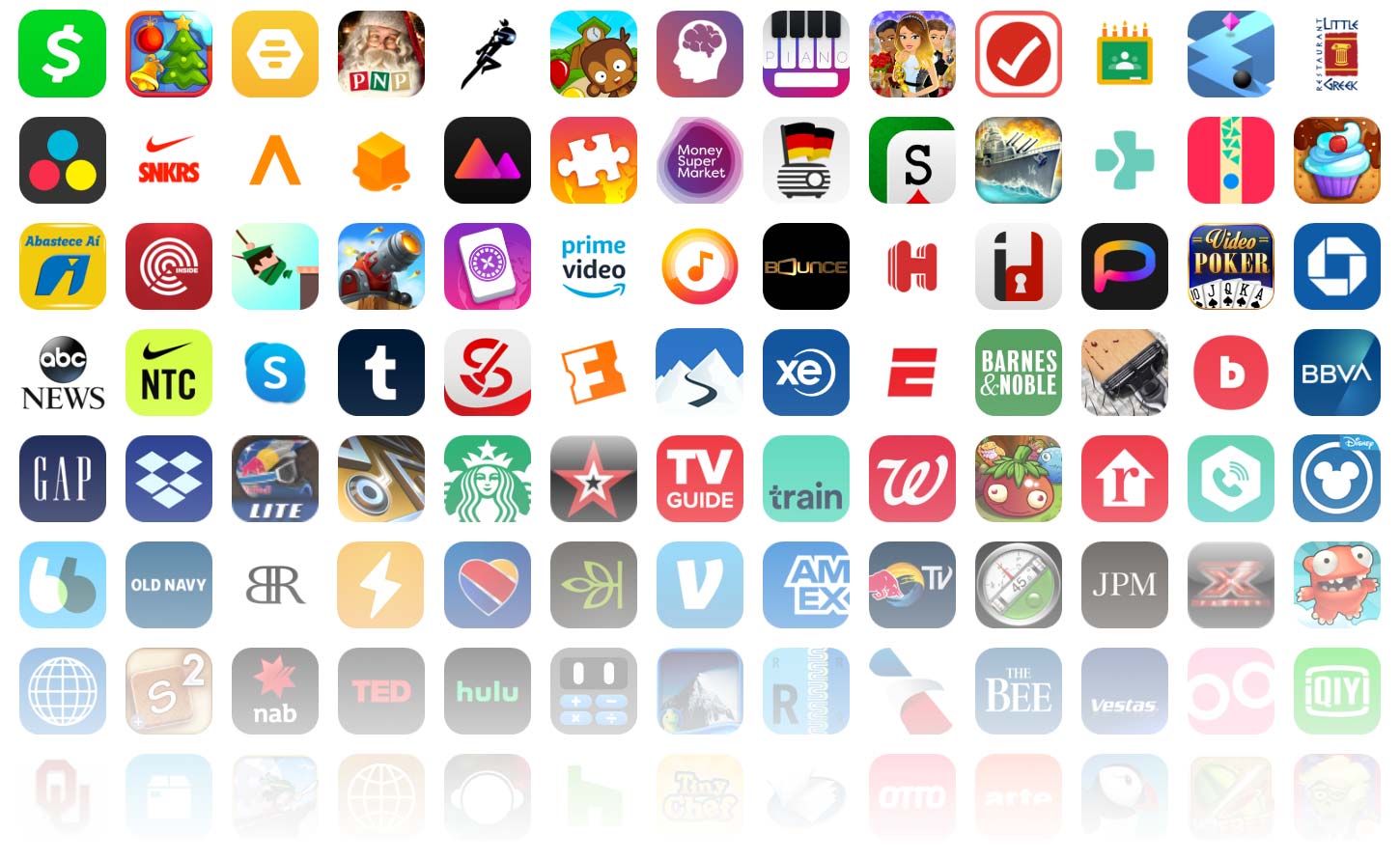 Here are the top 25 apps that got hit the hardest in the US:
Change
%
Starbucks
-1,660,160
-55.78%
Chase Mobile®
-1,602,198
-85.33%
Walgreens
-1,371,994
-62.87%
Venmo: Send & Receive Money
-1,202,943
-17.75%
Hulu: Watch TV Shows & Movies
-1,081,726
-95.02%
Amazon Prime Video
-779,784
-57.44%
Southwest Airlines
-721,739
-23.24%
Ibotta: Cash Back Rewards App
-713,743
-98.63%
My Disney Experience
-556,244
-56.13%
Hotels.com: Book Hotels & More
-357,285
-37.70%
Xoom Money Transfer
-328,520
-70.47%
ESPN: Live Sports & Scores
-303,755
-86.59%
ESPN Fantasy Sports
-289,794
-35.05%
Amex
-280,941
-23.10%
Disneyland®
-262,081
-41.08%
Old Navy
-215,496
-78.17%
Fandango Movie Tickets & Times
-178,369
-11.86%
Skyscanner – travel deals
-159,799
-60.35%
QVC Mobile Shopping (US)
-143,130
-41.89%
Google Classroom
-127,132
-90.68%
TurboTax Tax Return App
-108,218
-44.99%
Nike SNKRS: Sneaker Releases
-108,085
-31.32%
▻ Solitaire
-99,205
-86.21%
Spider ▻ Solitaire
-95,450
-71.82%
Depop – Streetwear & Vintage
-90,269
-89.85%
We spoke to some developers who got hit by this sweep to see what they think about it, and so far no one has a logical explanation to this. Some think it's another "error" that Apple will correct, but this time the number of apps that were hit was much smaller. Others theorized Apple is cleaning up fake ratings, but they all stated that they never solicited fake ratings or reviews, which we believe.
The Sweep Hit Globally
Although the US, which saw 10 million ratings go poof, was hit the hardest, this sweep was a global one hitting all 155 countries Apple supports. China, the UK, South Korea, Russia, and Australia followed the US, with 2.7 million ratings deleted in this sweep.
But, it's important to note that most individual apps only got hit in a few countries and not all. This could indicate this isn't a simple "error" but rather something more intentional.
Positive AND Negative Ratings Disappeared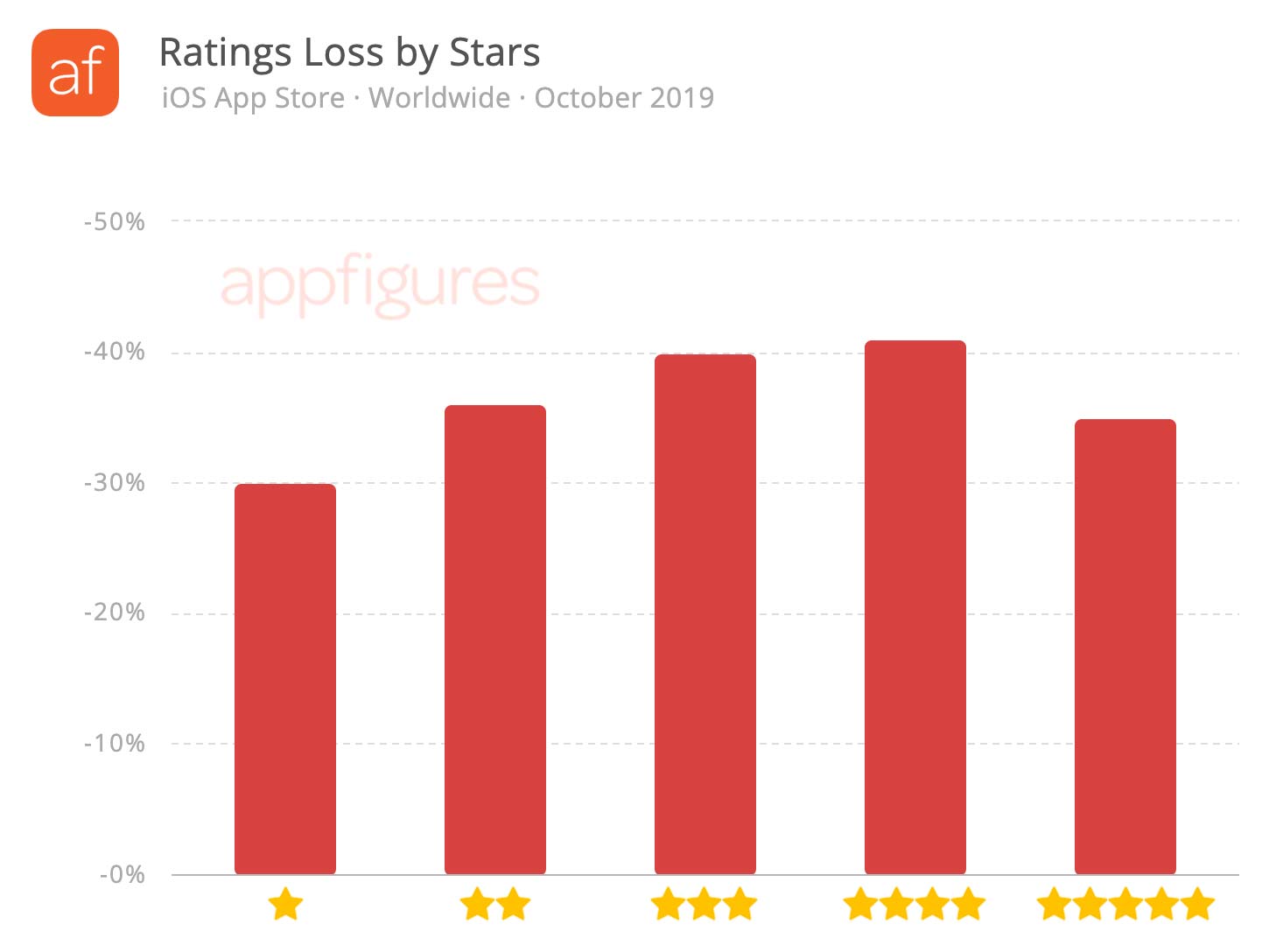 Three and four-star ratings were hit the hardest, with a decrease of 40% and 41% respectively. Two-star ratings saw a decrease of 36% while 5-star ratings, which would normally be where most fake ratings are, saw a drop of 35% and one-star ratings dipped by 30%. All-in-all, suggesting that maybe that isn't the real explanation.
Apple has been quiet about this incident but if/when that changes we'll be sure to update this post. Has your app been hit by the sweep? Do you have any more information you can share? Tweet @appfigures and let us know.
FYI – Appfigures monitor millions of mobile apps including yours and your competitors, and provides a complete suite of analytics, optimization, and intelligence tools to help you acquire new users and analyze the market. Learn more →